Our penultimate instalment of the Ambassador Q & A series is with Tiffany Melius! This Brisbane-born, Canada-based climber is a legend who manages to juggle high-level comp climbing with outstanding non-profit work. How does she do it!?
When and why/how did you start climbing?
At 14, my engagement with my primary sport of gymnastics started to waver, and I was looking for a new sport to challenge me, while maintaining my strength and flexibility. On the recommendation of a neighbour, I tried indoor rock climbing at a local facility, and I was hooked. I started competing three months later and haven't looked back.
What is your favourite style of climbing?
I think each style of climbing has something endearing about it, but most often I find myself bouldering. I think the simplicity of it appeals to me. It's just trying really, really hard with yourself, your shoes, your chalk, and a pad - and you can do it alone or with a group of people.
How has the climbing world changed since you started climbing?
Obviously the number of people participating is one of the biggest changes and, proportionally, the number of climbing gyms that exist. This also affects access to crags - as more people want to climb outdoors, the environmental impact on those areas inevitably increases. This means that education for new climbers and respecting access restrictions is even more important than ever.
I think the purist outdoor ethics are shifting as well - there used to be a lot of stigma around being a 'gym rat' and competing, like you weren't a 'real' climber. I think that is changing especially with the best outdoor climbers in the world often also being highly successful competition climbers and training lots on plastic.
And the style of gym setting has also changed - if you want to be able to do all the climbs/boulders of a certain grade in the gym it's no longer good enough to be able to bear down on crimps and fend off the pump forever. You need to be more diverse and creative, and incorporate different types of movements, be comfortable being uncomfortable, be more dynamic and coordinated than ever before.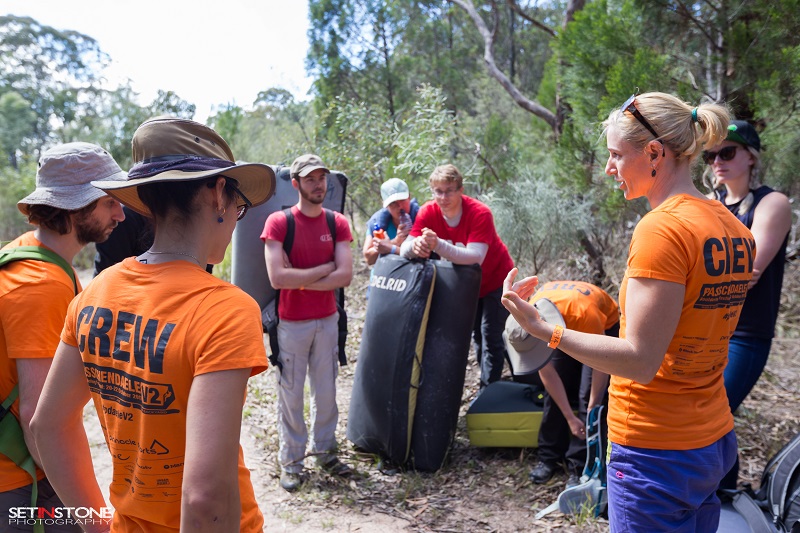 Tiff leading a clinic at the 2017 Passchendaele V2 Bouldering Festival. Photo by Set In Stone Photography.
Can you talk about one highlight and one lowlight of your climbing life?
The highlight was definitely making the semi-final of the 2013 Toronto World Cup - my first ever bouldering world cup. The low light was probably breaking my calcaneus (heel bone) in a bouldering accident in Bishop, California, and the depression that followed.
What are some of your goals for 2020, both climbing and non-climbing?
For the past two and a half years I have been pursuing the goal of qualifying for the Tokyo 2020 Olympics in climbing - the first year that our sport has been included as part of the Olympics Games. The qualifying competition for that will be the Oceania Continental Climbing Championships being held in Sydney on March 28 and 29, 2020. While it does not look like I will be taking that one spot for the Olympic Games, it will likely be my last international competition and so my goal is to try my absolute hardest and go out with a bang.
Once this Olympic bid is over, whatever the outcome, I plan to start trying to have a family. I postponed this by three years for the bid, but it is something that I truly want, and at 36, I don't have that many years left to try.
What made you want to start competing?
I have always been incredibly competitive by nature so I couldn't imagine ever not competing. I thrive in the environment where everyone is given a level playing field, and there are set parameters within which to perform. I love pushing to get the best out of myself in a fair play setting.
What does your typical week look like?
I train at multiple gyms across the Lower Mainland of British Columbia, Canada. Occasionally I visit other gyms (for example, to train on a full speed wall). My coach is Charlie Manganiello of Climb Strong (based in Wyoming, USA).
What I do in any given week changes depending on what training cycle I am in, but typically my schedule looks like this:
Monday - work 8:30-4:30, rest in evening (date night)

Tuesday - work 8:30-2:30, training 4-7

Wednesday - training 10-1, lunch, nap, training 5-7

Thursday - work 8:30-2:30, training 4-7

Friday - full rest day. usually this is my day to take care of other things - paying bills, physio/massage/osteo appointments, ASADA courses, climbing video review (movement, past comps, routesetting etc.), sponsor obligations, SCA requirements, comp registrations, travel and accommodation logistics, website and social media maintenance etc.

Saturday - training 10-1, lunch, nap, training 5-7

Sunday - rest in the morning, training 4-7
What does the introduction of climbing to the Olympics mean to you?
Since climbing, my chosen sport, has not historically been in the Olympics, I never aspired to be an Olympian. However it is the pinnacle of sporting achievement, and the privilege of wearing the Australian Olympic Uniform in the Opening Ceremony of the Games would just be epic.
I was actually trying to retire from competition climbing in 2017, having won the Australian National Bouldering title in 2016, and being 33 years old at that time. I was planning to start trying to start a family. But I spent the first six months of 2017 miserable. Counselling and soul-searching brought me to the realisation that there was a part of me that wanted to try to qualify for Tokyo 2020, since climbing's inclusion had been announced in 2016. From June to August 2017 I reflected on what it would mean - the time, energy, effort, and money that it would take to do this. I chatted with family and friends about the impact that it would have on them. I worked through knowing that I would need to move to parttime work, and what it would mean if my dream job didn't let me go part-time (i.e. I would have to resign). And after all of that I decided that I HAD to go for it. That I would regret it if I didn't. That this truly was a once in a lifetime opportunity due to my age. I also had never focussed 100% on my climbing before, due to a lot of doubts and self-talk that have held me back throughout my life, and I wanted to see how far I could actually go.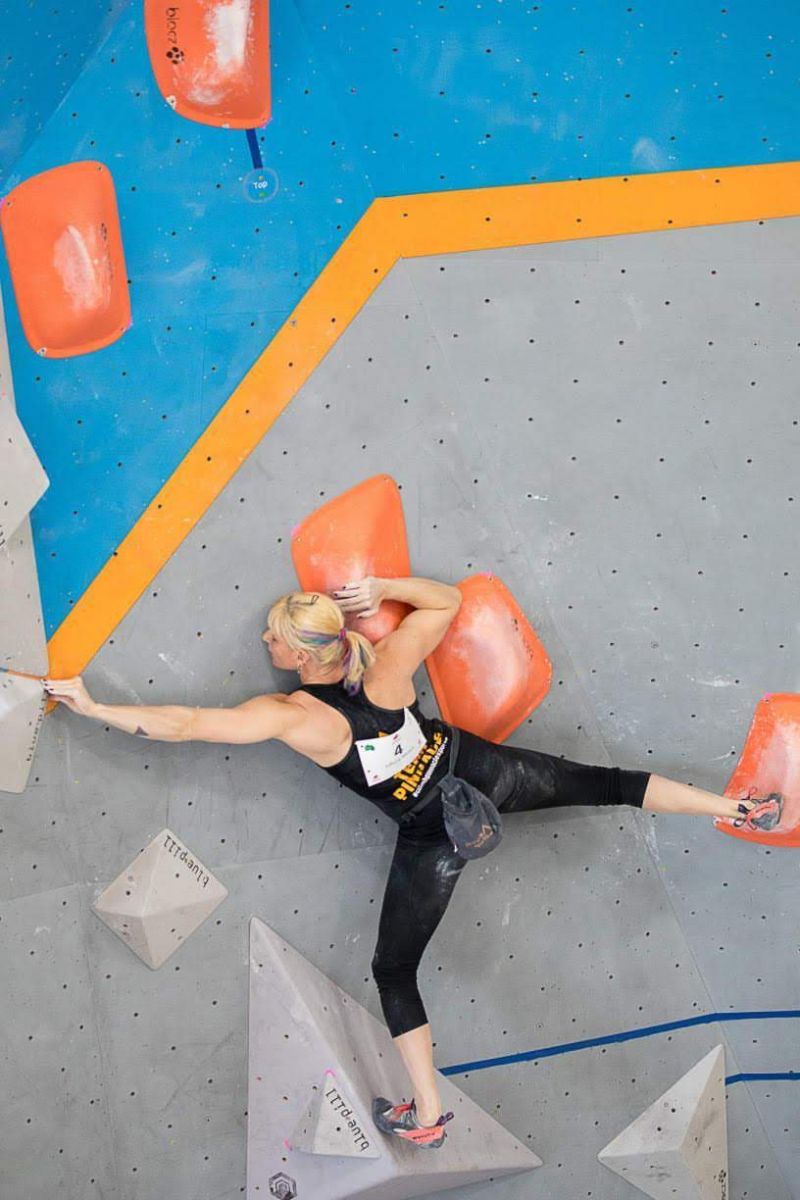 Tiff in her element on a comp boulder. Photo by Tara Davidson.
How do you balance training with just wanting to have fun climbing?
There are a few pieces of this answer for me:
I enjoy training. Not just climbing, but having a strict set of sets and reps and breaks etc., the constant need to learn and grow and adapt, the striving to be better, the witnessing of improvement over time. I think to do what I am doing you have to be able to find joy in the process, because otherwise you would just be miserable.

It's important to incorporate some general climbing skills into my schedule, and often times those are the 'fun' sessions for me, and it makes it even better when I can

Climb/train with others. Being with friends makes every session more fun.

​​​
​

​

What do you think makes the difference between a good climber and a great climber?
I think there are as many answers to this question as there are climbers… Are we talking good/great as in grades? Or good/great as in leaving a legacy behind? Or good/great as in pushing the boundaries of our sport (outwards as well as upwards)?
Everyone has their own strengths and weaknesses and what makes one person great may not work for others. Some attributes that I would say are more common for climbers I would consider 'great':
Motivation/psych - know your 'why' for climbing and your goals, stay true to that, and tap into it when you really need to dig deep and try hard.

Discipline - whether that be in training, planning a trip, rest and recovery, not bailing on your climbing partner, or truly pushing yourself to the limit towards whatever your goal is.

A love of the process.
We hope you enjoyed learning a bit more about Tiff! If you're interested in learning about our other Ambassadors, check out their Q & A's through the following links: