Written by Pinnacle Ambassador Ryan Siacci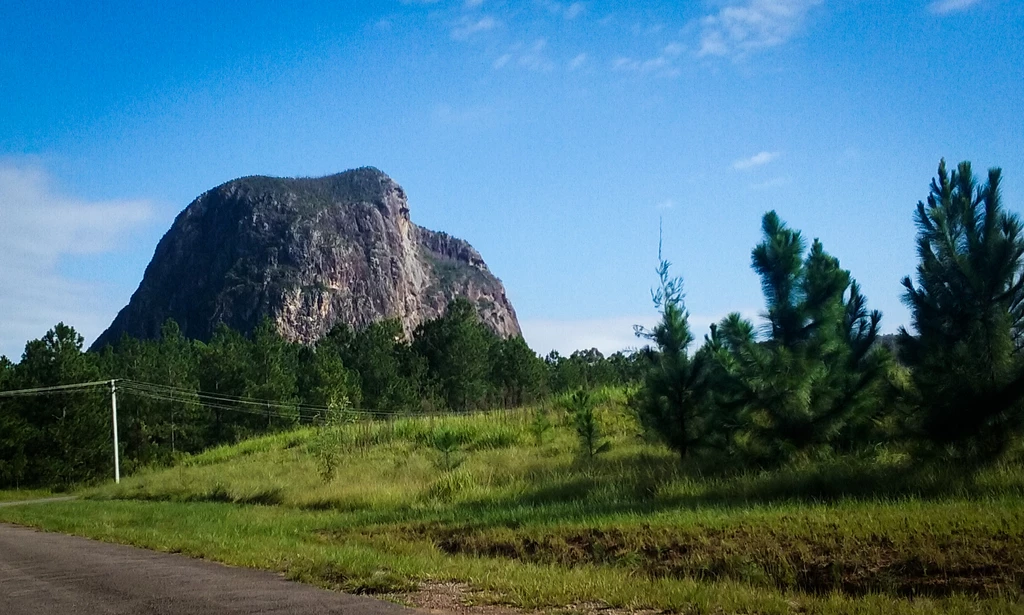 What Tibro lacks in height, it makes up for in adventure. There is always something new and unexpected to be found on the slabby flanks, inside the crumbly caves and under the steep overhangs. I've been around the world a couple of times or maybe more, as the song goes, and it remains one of my favourite crags on the planet. No duff.
That said, the Glasshouse Mountains are not exactly praised for good rock quality and oodles of protection. An apprenticeship on Tibrogargan usually comes with its fair share of hair-raising moments (ask me about the Northeast Buttress sometime). But if you choose wisely, Tibro can be a great place to dip your toe into the wonderful world of multipitch adventure routes.
At the time of writing, there are 50 or so multipitch routes on Tibrogargan. They vary wildly in the quality of protection and rock, as well as the relative difficulty of the grades. If you're yet to become familiar with the character of the mountain, it can be hard to know where to start. Hopefully, this short list of introductory climbs can help take some of the guesswork out of your first outings on Old Man Tibro.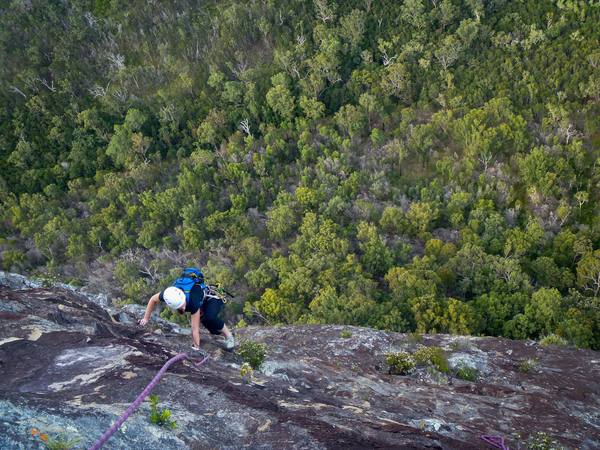 Zeitgeist (Sport, 17, 105m)
A lap up this fully-bolted three-pitch fun factory has become a standard Tibrogargan rite of passage. The short and punchy crux on the first pitch feels airy, but is very well protected. From there, ramble left up the vague slabs of Desperation Wall to find yourself at Cave 2. Climbing Zeitgeist is a good way to wrap your head around the geography of the mountain without the chance of getting hopelessly lost in a sea of trachyte – just follow the bolts and you're home and hosed!
Black Orpheus (Trad, 10, 140m)
A close neighbour to Zeitgeist, this five-pitch route is the quintessential Tibro slab classic. It will provide a solid introduction to the adventurous style you'll find on other routes, with occasionally tricky route-finding and a long run-out over easy terrain on the second pitch. Be confident, but take care! Being one of the older routes, the climbing is harder than the grade would suggest, but still relatively easy overall. The route finishes in Cave 2 after a stellar chimney pitch.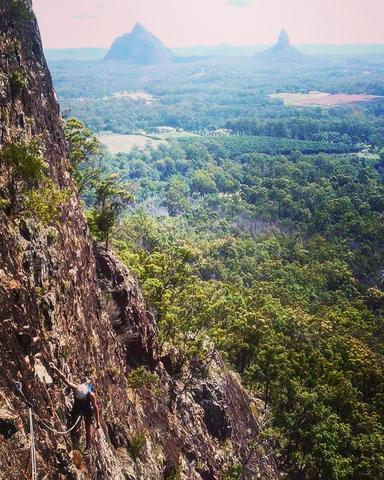 Blabbermouth (Trad, 16, 200m)
Blabbermouth features some of the best rock to be found anywhere on the mountain. Most of the route is bolted apart from the crux pitch, a short and fun crack - no hardcore Frog Buttress skills needed, mostly face holds with crack protection. The views from the Northeast shoulder are pretty speccy. Make sure you pick an overcast day or start early – it gets mighty hot on this side of the hill!
Troposphere (Sport, 18, 115m)
Now you're climbing! This popular route is located on the southern aspect of the mountain which makes it a great choice for those hotter days. Overall, the climb is not too difficult, but there are some isolated tricky moves which feel very exposed! Few climbs put you in so many fantastic positions as this one. A different character from most of the other routes on this list and definitely worth a lap.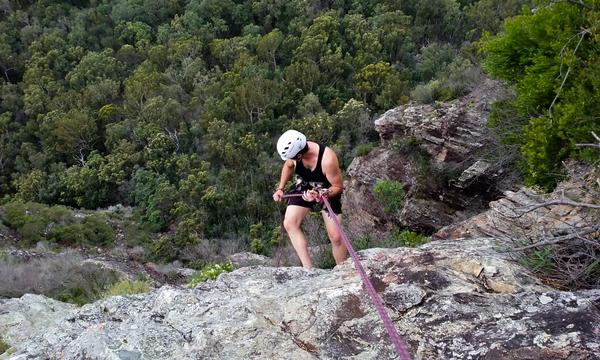 Remains of the Day (Trad, 17, 150m)
A touch more committing than Blabbermouth, this five-pitch route is the logical next step in introductory trad routes. The stiff start soon yields to mellower climbing, though always enjoyable and with a variety of terrain and mixed protection. Most of the route goes on bolts, but part of the third and fifth pitches take gear. A light rack should suffice, and this mixed style forms a great bridge between fully bolted routes and those that only take gear.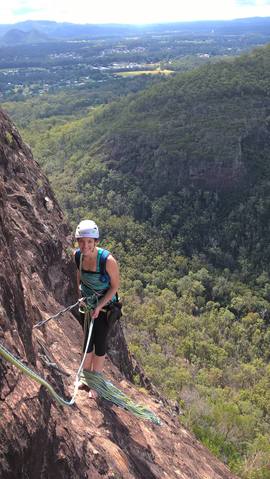 Ross Miller Route (Sport, 21, 190m)
I know the guidebook claims this as a trad route, but it only requires one piece of gear in 8 pitches (a #3 Camalot or medium hex, according to TheCrag). And don't let the grade intimidate you either - it's arguably soft and probably closer to 19, but possibly upgraded due to poor rock quality at the crux. All that aside, it's an interesting route and one of the longer climbs on the mountain, offering an opportunity to build experience in each of Tibro's characteristic climbing styles – scrubby bushbashing, exposed aretes, balancy face climbing and tentative slabs can all be found in abundance. The 4th and 5th pitch are the money with lovely moves in a fantastic position and buttloads of protection. Take care on the last pitch where protection is quite spaced.

How to be an upstanding member of the Tibro Club
With more and more folks getting jazzed on climbing these days, it's important for us to be good stewards of the areas we love. Tibrogargan is a special place and it has a great amount of historical and spiritual significance. Here's some tips on how to enjoy this mountain with the respect it deserves:
Pack it in, pack it out. Easy!
In such a small park, using the toilet before your adventure is the best bet. In an emergency situation, bury that sucker deep - at least 15cm down and away from trails and water sources. This includes your TP!
Stick to the trails and don't take shortcuts. Better yet, why not help out with one of the organised trail care days?
Don't remove vegetation from the base or the cliff itself. Take some care with those ancient Ironwoods - they might look tough, but if everyone slings a rope around them, they can get damaged beyond repair.
Be mindful that the Falcons like to nest between August and November, which unfortunately is when everyone wants to climb. Check the latest updates on the ACAQ Facebook page and give the birds some space or suffer the consequences!
Be sensible in your route choice and honest about your abilities. Don't get in over your head. Know how to rescue yourself and your partner in a multipitch scenario. Organised rescues have a huge impact on mountain terrain. For the best Vertical Rescue training going, look no further than the good folks here at Pinnacle Sports!