Written by Alex Mougenot
After a week spent in the Grampians, Alex Mougenot reflects on what makes a good bouldering trip and the seeming pointlessness of bouldering - finding the easiest way up the hardest parts of a boulder. The Pinnacle Crew and friends set out to taste some of the best rock in Oz, to push their boundaries, and to crush (and be crushed).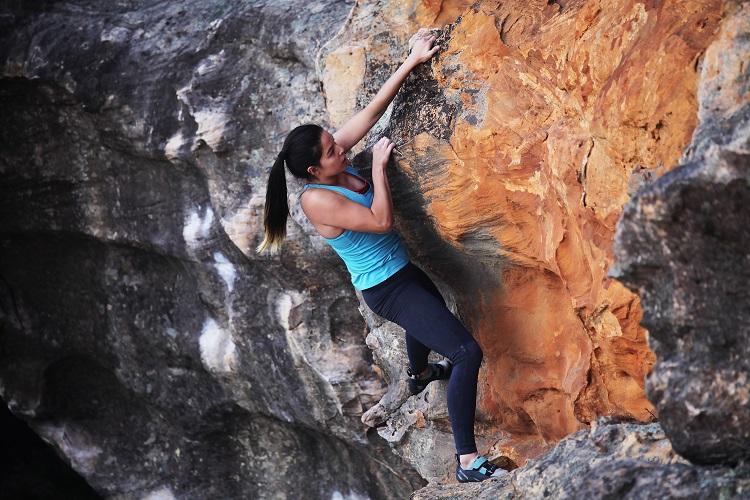 Hard to get past the distinctive orange streaks of the Grampians. Photo by AJ Amies.
Now I started off my climbing life bouldering at Kangaroo Point and Toohey Forest barefoot with my schoolmates. We didn't believe in climbing shoes, looking down on our one mate who had them, as with climbing shoes "you can't grab the rock with your toes". I was getting immensely psyched on short, sandy boulders at Toohey Forest with an old re-commissioned foam mattress as a crashpad, which we tied to our backs with some rope. I'd ride my bike to Toohey before school, and rock up to school hours late when I decided that my latest project meant more to me than the first subject of the day. We started roped climbing, but even then, my passion was bouldering! Then one day I invited another school mate out to Toohey with me who'd never climbed before. I showed him the boulders and the problems up it, and we got climbing. He looked to me in confusion and asked "Why don't we go up the back?" ... I didn't know how to answer.
I'm not sure if it was this experience, but I started to see bouldering less as a means in and of itself, but as an enjoyable discipline to train for 'real' climbing of trad/sport climbing. So when my mate Steve Thompson invited me on a bouldering trip out to Grampians for a week with him and the crew, I thought, "A bouldering trip?! Really?", but I went anyway, bringing my trad rack and climbing gear, anticipating to ditch the bouldering and climb 'real stuff' most days. What I found is that the bouldering is absolutely spectacular! So much so that my rack lay untouched in the bottom of my pack the whole trip in agreement with Vertical Life Editors' Simon Madden and Ross Taylor when they say that "The Grampians is the best, chuck out the rest". So here's what filled up our daily life in heaven:
Day 1:
After making the drive to Grampians (not without almost losing a crashpad to sketchy tie-down ops), we made straight for Andersons - a bouldering area in the Northern Gramps - for our first taste of the Gramps sandstone. We met AJ and Em from Pinnacle there and the psyche was high! All running around like crazy, sampling as many problems as we could before the sun set, I couldn't believe how many problems there were, and at all grades. Highlights included Pinche and the Brain (V4), Out of the Bleau (V5) - a fantastic sloper-problem - and Bleausard (V5 R), a heady line with a committing slopey topout.
Day 2:
After Chinese takeout from Horsham, a solid night's sleep at Mount Zero Log Cabins (Neil, the new owner, is a great guy!), and Steve's Super-Crusher Overnight Oats™, we rendezvoused at The Kindergarten. Here, we threw ourselves at Nevin Rule (V7) and Flash Gordon (V7). Nevin Rule seemed utterly impossible at first, but after an hour of work, a tricky left heel-hook, and some delicate core tension, I was at the top of Nevin Rule, breathless and surprised. With that confidence behind me, I joined Steve on Flash Gordon, a low 6m roof with sneaky heel-hooks and toe-hooks hiding everywhere, waiting for a climber to find them. Unlocking these moves, bouncing ideas off of each other, alternating sending shots and refining the nuances of our beta when we fell, combined to form one of the highlights of my trip. Working together to finish off a problem is so much fun! Route climbing is largely individual in terms of figuring out the moves, and the cooperation isn't usually so intimate. After a few hours of work, I kept falling off at the end, until I was told of the missing ingredient: a spinning-180-degree-flykick-to-toehook beta for the last move.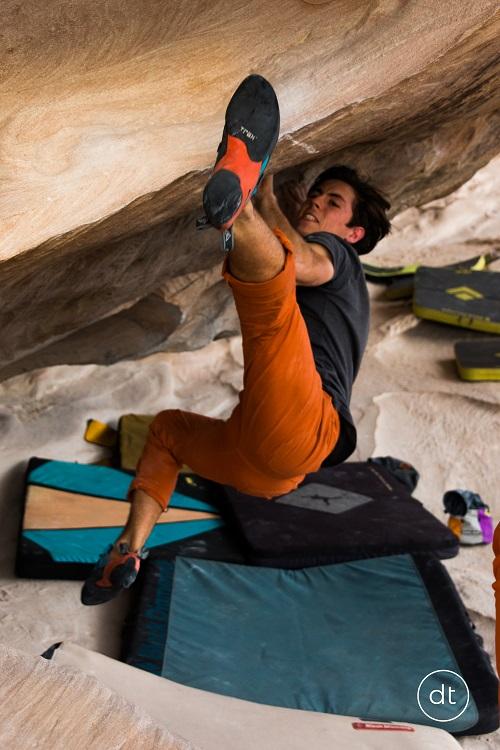 Sticking the ninja kick on Flash Gordon. Photo by David Thorpe.
Day 3:
HOLLOW MOUNTAIN CAVE!!! Ohhh man. What a crag. Like meeting a celebrity, it seemed smaller in person, but the problems were better than I could have imagined. We all sieged Wimmel Friedhoff (V5) and I worked on Rave Heart (V8). That diabolical first move had me beat. Even when I did make it through, I'd fall off on the second diabolical move: an overhead throw to a crimp-dercling! One shot I rolled lucky and stuck the second move, then finished it off. My second V8! This fantastic day was capped off with a beautiful sunset ascent of an amazing highball perched high on the cliffs of Mt Stapylton, with Taipan Wall as a backdrop: Hike the Moon (V4).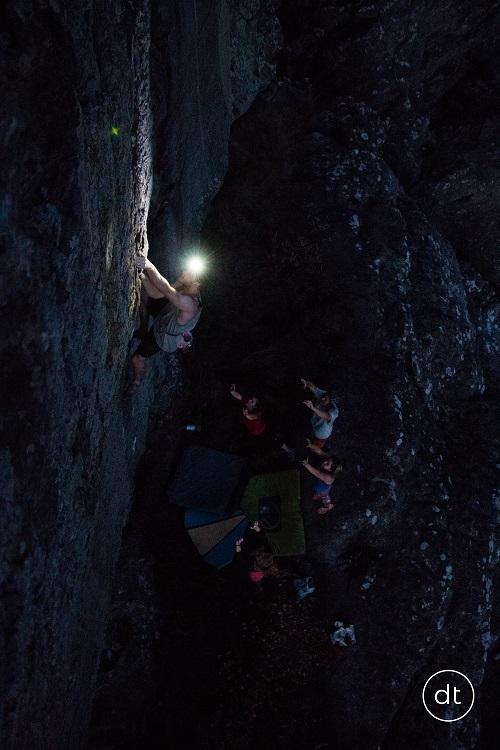 Highball bouldering in the dark: extra spicy! Photo by David Thorpe.
Day 4:
Epic rest day feat. more Super-Crusher Overnight Oats™, restorative camp yoga (which, for my untrained body, did more damage than good), and a classic Arapiles ramble - Tiptoe Ridge (4). What a great day out on the wall! The whole crew set up the ridge, delighting with the smooth rock, Araps jugs, and the thrill of air beneath our feet. On the walk down we checked out Punks in the Gym, the world's first 32. One day ...
Day 5:
Back at it! The crag of the day was Buandik ... tucked away behind a 40-min scrubby walk uphill in the Victoria Range. Here was the scene of the most epic send train of the trip ... after working Hanson's Disease - a classic V6 - for a few hours, 6 of us sent the line in quick succession. Energy levels were SO HIGH! The rock quality up here was incredible. It's easy to see why Nalle Hukkataival has spent so much time up here developing routes. It was cool marvelling at the V14 boulders he put up there. Another highlight of the day was watching our friend Maddy Pollard project Scary Monster (V3), she pushed herself so hard: her physical ability combating her fear of falling. It was so inspiring to watch.
Day 6:
Back to Hollow Mountain! Steve and I got back to work on Amniotic World (V9). I came close to sending twice but pumped out both times at the finish. Steve sent it, and that's when I felt the pressure set in. It was just me working on it, and it felt like I had to do it. When I was having send burns I could feel all the eyes on me and hear the hushed silence of people watching, I knew the camera was rolling and I just ... couldn't focus. It was so weird getting stage-fright climbing. It's just climbing rocks! I shouldn't be putting any more pressure on myself, but that's just the way it was. My body became more and more fatigued, each failed attempt compounding on the last physically and mentally. Then it just happened! I was trying so much to the point that the pressure I placed on myself to send sort of disappeared, as I didn't expect to finish the climb, I knew that camera wasn't rolling anymore, and it happened. No way! I've never been so excited topping out a problem.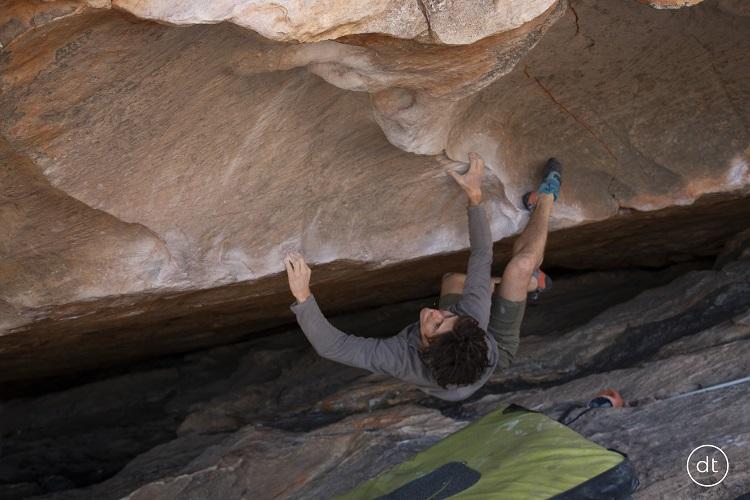 Prepping for take-off on Amniotic World. Photo by David Thorpe.
Day 7:
Onto Trackside today! Just a cool, chilled out last day bouldering, where we found lost Pinnacle Member-Moved-South Jess Taranto! A great day that was capped off by walking up to Taipan Wall to marvel at its grandeur. As soon as I touched the wall, I was inspired. But it was mixed with a massive pang of regret that punched me in the guts. How did I travel all this way ... and not climb at Taipan?! I spent my whole time playing on boulders when I could have been climbing on this MA-HOOOO-SSIVE hunk of streaked, grooved, sculpted sandstone artwork on 60m glory-pitches ...
This regret gave way to inspiration, and to the realisation that before this trip, I did not feel as if climbing on Taipan was possible for me. On this bouldering trip I had been repeatedly trying problems that felt and looked impossible. These past couple years I've been trying climbs that are within my comfort zone physically. Through re-discovering bouldering, I've found that I'm capable of a lot more through a bit of hard work and a lot of belief. Now, I feel as if I can see that little bit further across the horizon.
---------------------------------------------
Self-discovery aside, what made this a great trip? It wasn't just the good problems; the social vibe enriched every moment on and off the rock. I found that the dynamic of bouldering is weird; it quickly transitions from high intensity on the rock to super chilled-outness off the rock. Having a good crew with you is a fantastic motivator to wrench up the ante when it's your turn to crush. When a bunch of mates cheer you on, this electrifying psyche envelopes you and sets every nerve in your body abuzz. I felt that much stronger, that much more capable, and it honed my focus a lot.
Just as well as the climbing, some of my fondest memories are those made off the rock: playing Jungle Speed at midday in Hollow Mountain Cave, joking around getting lost on the approaches, having shared dinners back at the cabins, sharing stories and talking about life, singing in the car bumping along dirt roads, going 'buildering' on a night out in Melbourne, and four of us taking refuge from a storm in the caravan of the owner of Mount Zero Log Cabins when we realised that sleeping in a bush campsite without any tarps or tents in a storm wasn't a good idea ...
To wrap it up ...
Is bouldering pointless and an utter contrivance? Probably, but it depends on your goal. The goal isn't exclusively to reach the top, but to reach it through climbing through a certain section of rock. If not, then we could call any route in the world contrived, because of the hiking track on the other side of the mountain. I climb for the journey, for the self-discovery, for the joy of creative movement and for the challenge. As far as I can see, bouldering ticks all of those boxes.
What makes a good climbing trip? Good mates. Positive vibes. Shared goals.
Until next time, guys, and thanks for a sick trip!
The crew at the top of Tiptoe Ridge. Photo by Charlie Zhu.