Written by Scott Hailstone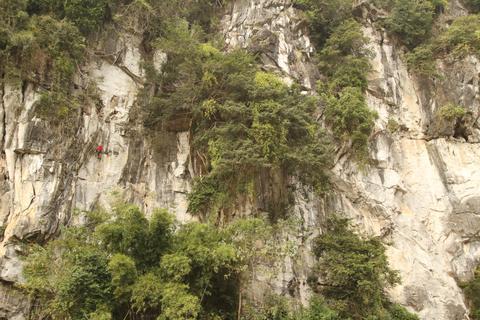 Things seemed like they were going to be very interesting when Peta and Scott arrived two weeks before the Cat Ba Island, Vietnam tour for 2017. A very, very late season typhoon had come through mid November and access to half the crag that we had planned to use for this projecting tour was underwater! Thankfully the water receded more and more everyday and a week later we were able to set foot on the right hand side of the cliff and get reacquainted with some of the awesome crag classics.
We had a full tour contingent of 6 climbers this year, all looking to make some big improvements and push their grades. There was quite a difference in their current grades and abilities but thankfully Butterfly Valley (the main climbing crag on Cat Ba) had the goods at all the grades.
We had quite a few repeat clients from other tours this year so there was a bit of tour reuniting and a few first meetings. The first day we did a bit of light climbing to blow away any jet lag cobwebs and to acclimatise to the local limestone features. The limestone on Cat Ba is quite unique as it has a little bit of tufa and stalactites mixed some smooth pockets and cracks, giving it a generally pretty pleasant feel for your skin and often quite varied moves even on the same climb.
The crag at Butterfly Valley is surrounded by a farmland and access is a 20min drive from town and a 2 min walk across the field, maybe feeding a cow or water buffalo along the way.
This year the team opted to spend a morning Deep Water Soloing as well which was an exciting eye opener and first for them. DWS is not part of the actual tour program but we can assist you arranging it through the local operators that have their own boats and specialty guides for this activity. It is a lot of fun and definitely exciting addition to the tour.
We spent a "day on the bay" taking a tradition Vietnamese boat out onto Lan Ha bay and climbing some nice routes straight off our own private beach for the afternoon.
A firm favourite of the tour was the home cooked meal by Nga, one of the owners of the farm that the Butterfly Valley crag sits on. Her peppered, garlic beef dish is one of the best we have had in Vietnam.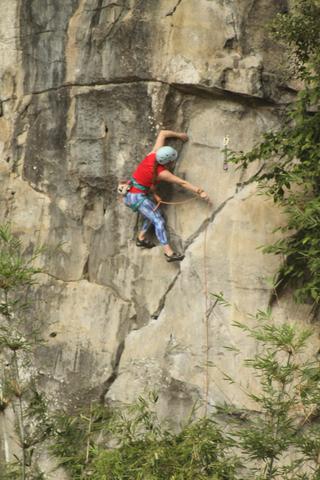 On the projecting front, we had some big wins especially one of our clients who equaled her current grade at home with a solid send of one of the crag classics "Buffalo Love" 24/7a+ and exceeded it with a really quick send of "Prayer of the Mantis" 25/7b, her first at the grade. This was followed by few other sends of "Buffalo Love" and several first at the grade sends.
One of the benefits of this tour is our intimate knowledge of the routes here allowing us to match clients with their perfect project and work with them through the process of breaking a route down and eventually sending it.
All in all a great tour, good climbing, great company, tasty food, the odd cocktail, friendly locals and awesome photos.
Interested in getting in on the action this year? We have announced dates for the December 2018. Get onboard, enjoy the ride!!
https://www.pinnaclesports.com.au/climbing-holidays/