As a small, family-owned business, we love supporting the other small business in the Australian climbing scene. As part of this effort, we are rolling out a series of Q & As with some of the amazing local producers that we work with and running a little promo. In this installment, we hear from Dr Michael Meadows, the author of The Living Rock - possibly the most comprehensive history of Australian climbing available. As can be expected of an author and academic, Dr Meadows has provided a pretty comprehensive response to our questions!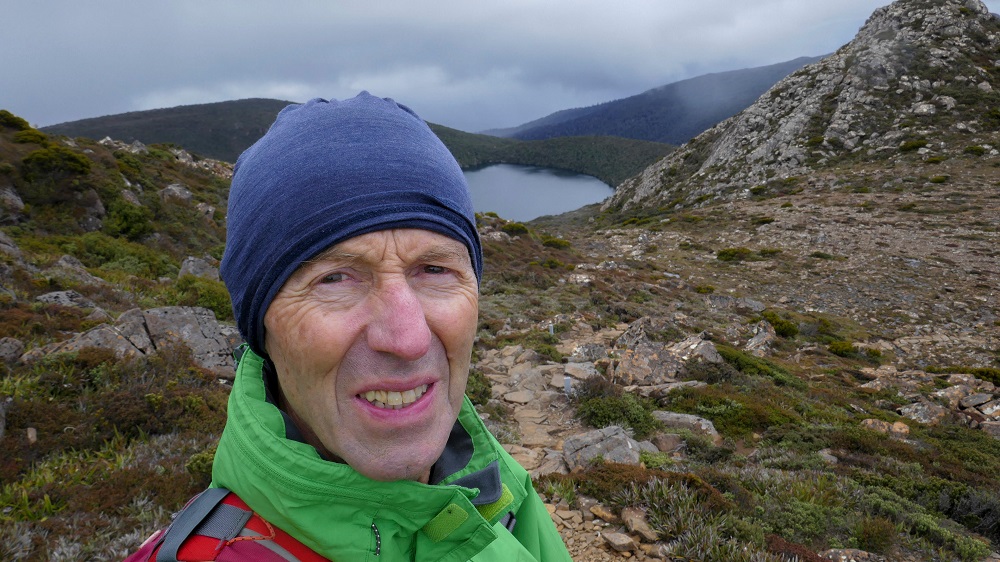 How did you start climbing? What motivates you to keep climbing?
I started rockclimbing in 1967 when I was an 18-year-old uni student, introduced to rope techniques through the University of Queensland Bushwalking Club's (UQWBWC) training sessions at Kangaroo Point. It was a natural extension of bushwalking which I began around 1964 but the attraction of climbing grew as my two older brothers and I — along with several school and uni friends — started to explore more challenging destinations like Mount Barney. We realised that to attempt the more serious routes, rockclimbing skills were useful and, in some cases, necessary, to ensure our safety. I repeated the exposed Waring traverse across the uppermost section of Leaning Peak's north face in 1967 after reading about it in the UQBWC's annual magazine, Heybob. Back issues of that journal offered a wide collection of inspirational articles about adventures in locations from southeast Queensland to the Himalayas. In 1968, I joined with my brother Chris and now brother-in-law, John Shera, to put up a new route on the north face of Mount Barney's Leaning Peak — still the longest climb in Queensland at 410 metres. It was an epic, requiring a planned overnight bivvy on the face, and although I had a minor lead fall — spraining my ankle — it was a defining moment in my life. I was hooked! After climbing Leaning Peak, we thought that we could probably call ourselves rockclimbers so my brother, Chris, and I, along with a school friend, Greg Sheard, joined the Brisbane Rockclimbing Club and the journey continued in earnest. We met and climbed with influential Queensland figures like Ted Cais, Donn Groom, Neill Lamb and later, Rick White who joined the club at the same time.
I worked for Rick's Mountain Designs business as a machinist and shop assistant during its early formative years before moving into my preferred career path as a journalist in 1978. As I focussed on a career and economic survival, climbing gradually disappeared from my life. Climbing partners had moved interstate, out of the country or had given up. The impetus had all but vanished until 20 years later when one of my PhD students, Wendy Steele — who was a climber — lured me back out onto the rock. Wendy and a good friend, Jackie Kiewa, took me up the classic multi-pitch trad route on Mount Maroon, Ruby of India. Although I struggled on the crux that day, the higher I climbed, the more I felt the euphoria that climbing creates taking hold of me again. Suddenly, it all seemed so familiar and I wondered why I had ever stopped. I realised then that once climbing gets inside you, it won't easily let go. I was back and have continued climbing ever since, mostly with my friend and co-researcher Robert Thomson — until he was recently stricken by a debilitating illness.
The feeling you get on a climb is difficult to explain to non-climbers. Standing on a tiny ledge on a steep cliff in a wild, remote place somehow makes all of the effort in getting there worthwhile. But for me, it's as much about the people I climb with as the climb itself. It's an intense, shared experience and when you're leading a climb and in 'the zone', it's like yoga — all extraneous thoughts are banished, allowing you to focus absolutely on the next few moves and gear placement. I started as a trad climber and have not felt the slightest attraction to sport routes because gear placement is one of the great mental and physical challenges I enjoy. The climbs I do these days are well within my comfort zone with the east face of Tibrogargan my favourite destination. I tend to repeat the same few routes there and have probably done them 20-30 times with various people over the decades. I have never felt the need to tick off routes in a guide book or to chase numbers (grades) — just being in a place that few other people can reach is reward enough. Now in my early 70s, I'm grateful that I'm still able to get out onto the rock occasionally and enjoy it. For the past five years or so, I have been travelling to Mount Arapiles for a week's climbing with a group of like-minded and similar aged comrades-in-arms — climbers from the golden era of Australian climbing history: Ian 'Humzoo' Thomas, Ray Lassman, Keith Bell, Greg Sheard, Paul Caffyn, Keith 'Noddy' Lockwood and several others.
What gave you the idea to write The Living Rock?
I stepped aside from full-time academic work in 2015 and spent that year completing my book on Australian climbing history, The Living Rock. My regular climbing partner, Robert Thomson, played a crucial role in the extensive research for that enterprise which began way back in 1998 — the same year I resumed climbing after a long break. I'm working on an electronic edition of The Living Rock which I hope will be available later this year. It will be an updated version of the hard copy with some additional stories and images, including drone video of local crags shot by my nephew, Nicholas Shera. I'm also into writing fiction and have been reworking several novels I've penned over the years, planning to publish them online eventually. I have plans, too, for an ebook based on my regular visits to the forests, wetlands and dunes of South Stradbroke Island — a special place I've been paddling to at least once a month for more than a decade. I like to keep fit with a mountain bike ride 2-3 times a week and am waiting for my local climbing gym, Crank, to open again after the Co-vid 19 pandemic eases. And I hope to be soon swimming laps at my local pool again, twice a week. I don't know how I was ever able to work full time!
I can still vividly recall the afternoon in July 1998 when the idea to write a book about Queensland climbing history emerged. I was sitting on the verandah of the Dugandan Hotel, the watering hole for climbers after a day on the cliffs at nearby Frog Buttress, when my school friend and fellow climber Greg Sheard tossed a copy of the first Frog guide book compiled by Rick White in 1969 onto the table. Of course, the other old hands there that day — Ted Cais, Ian Thomas and myself — were familiar with it. But a group of young climbers who were there treated it as if it was some kind of sacred text. It was their interest in the history of the crag that got me thinking — maybe I could put together a well-researched story of climbing in Queensland? I started out with the idea that it would be a journal article — something that might appear in the now defunct Rock Magazine — but within 12 months, it had grown into an almost uncontrollable monster. And it's still going! The process was helped along by several serendipitous moments — working with Wendy Steele; meeting Robert Thomson by chance at the State Library one day; support from Griffith University's Dean of Arts (a former climber); and at least three other chance meetings with descendants of climbers from Queensland's rich past. As the list of interviewees grew — and several of them had passed away — I began to feel more obligated to complete the project. The first draft was about 50 percent longer than the final version — cutting it back to a more accessible length was the most difficult task of all. I pitched the idea to perhaps 20 publishers both here and internationally with no solid interest — too niche, no profit likely. Despite my assertion that the last thing I ever wanted to do was to be selling a book from the boot of my car — guess what? A Sydney publisher called me (the only one who bothered) after I had sent in yet another proposal and he suggested that I do it myself because I knew the market for the book better than anyone. I gradually came around to acknowledging that he was right. So I launched into my own layout and design (with professional advice from colleagues), had the manuscript checked by a non-climbing editor and printed 1100 copies of the book. At the time of writing this, I have about 80 left. I've been overwhelmed with positive responses from the many public presentations I've made for clubs, associations, libraries, conferences etc. Despite my initial fears about self-marketing, it's been a highly rewarding experience as I have met personally the vast majority of those who have bought copies of the book. Throughout my academic career, I have published numerous books, book chapters and journal articles but, apart from a handful of well-wishers, I have no idea of who might have read them.
What are your thoughts on the impact that the Internet and Social Media have had on documenting climbing history?
The Internet undoubtedly has revolutionised communication and climbing has been drawn into that maelstrom. Almost everything we need to know about climbing is online now — somewhere. I started my own climbing history blog called The Living Rock, initially because I was having second thoughts about publishing a hard copy of the book. But it soon took on a life of its own and I've had many hundreds of messages from people all over the world who have found it online. It's since become a place where I've posted all of my climbing writings and research. In the same vein, friend and fellow climber Keith Bell recently set up his own blog, Rock of Ages (https://rockofageskb.blogspot.com/), with articles and photographs documenting his pioneering climbing efforts in Australia and overseas. While access to such electronic storehouses of data has meant that there's an extraordinary volume of information available, there are some caveats.
The first is that the sheer volume of information on sites such as Qurank, The Crag and Chockstone, makes it sometimes difficult to 'make sense' of what's important. There's a lot of white noise out there. The American poet T S Eliot once wrote: 'Where is all the knowledge we have lost in information?' The intermingling of opinion with fact remains the biggest challenge for those using online sources like climbing forums, blogs and websites. How do you decide what information is reliable?
The second caveat is that the longevity of online material remains a little uncertain. Future historians wanting to sift through online sources may find that webpages have disappeared, although Google will still have copies somewhere if you can ever access them. So finding online material from defunct sites could be a future challenge.
The final concern I have relates to a growing level of confrontational and aggressive behaviour by climbers online. The current debate in various forums around bans on climbing in the Grampians is a good example of this with abusive, offensive, ill-considered and ill-informed statements being made that are clearly ignorant of readily-available research that directly challenges expressed views. The online environment seems to encourage a quick descent into aggressive and intolerant language — the Net's version of road rage. It is too easy to fire off thoughtless commentary when you are not physically engaging with another person face to face.
I'm hopeful that the high level of communication most of us take for granted will lead to a broader acceptance that climbing is connected to wider society rather than being imagined as some sort of exogenous cult. Climbers are as bound by the laws and operational rules of society as other citizens with no special rights or privileges. Some in the climbing community seem to have overlooked this basic tenet when the question of access to crags is raised, for example. But despite these difficulties, our networked world means that on a personal level, climbers — as an extraordinarily disparate group of individuals — have never been closer in terms of understanding why we do it because of the shared communications network we all inhabit in one way or another. The Internet and the various formats it supports has vastly expanded our opportunities for understanding how outdoor social activities like climbing function. I hope we are able to use this in a positive way.
We hope you enjoyed getting to know this local legend! Don't forget to check out our promo and support all our awesome local producers.