words and images from Ryan Siacci
This week, COVID restrictions have begun to slowly wind back, which means there's a bit of light at the end of the tunnel. National Parks are soon to open and everyone is getting stoked on hitting the crag… and I mean EVERYONE.
For now, folks are limited to venues within 50km of their homes. It's going to get pretty hectic once this limitation extends, so it might be a good time to check out one of SEQ's quieter crags. Let's take a quick look at some of those, as well as some specific gear you might need to optimise the experience…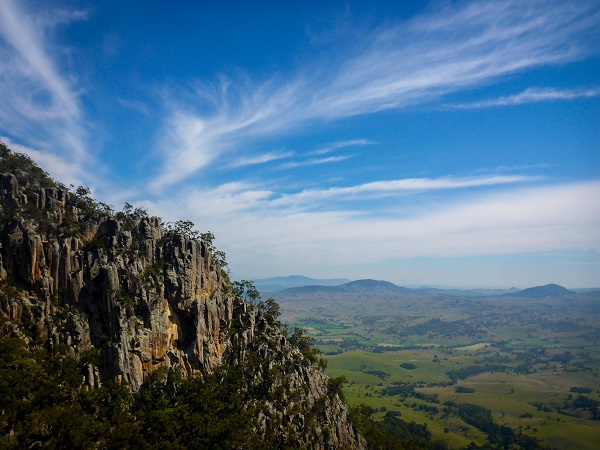 From Viewpoint Buttress on Mt Maroon
Serpent
A small sport crag set deep within the forest, Serpent was one of Queensland's first true sport crags. What does that mean? It means 90's vibes with a few carrots scattered about and the odd piece of natural protection.
Location
Gheerulla State Forest, near Kenilworth. About 2 hours north of Brisbane.

Style
Steep and face

Protection
Sport, some trad gear required

Gear recommendation
Take some medium to large cams, especially a #4 Camalot if you want to try the classic route listed below.

Classic Route
Minotaur (17) – burly climbing at the grade on crazy tooth-like features!
Tinbeerwah
Another old-school sport climbing destination, Tinbeerwah is home to a couple dozen moderate routes. Even though the grades might be modest, the sneaky carrots and generous serving of lichen can add a bit of value! Get your slab on!
Location
Tewantin National Park, near Noosa. About 1hr 45mins north of Brisbane.

Style
Slabs for days

Protection
Sport, but mostly on carrots

Gear recommendation
Bolt plates are a must!

Classic Route
Stone Age Elevator (24) – one of the hardest routes at Tinny in a cool position.
Urbenville
Technically, this crag is in NSW, but it's pretty close to the border. There are a couple of different types of experience to be found in Urbenville, from the weird pockets on Battery Hill to the friction slabs on the Crown to the steepy-steeps at Spot X. Something for everyone!
Location
Urbenville, near Woodenbong. Almost 3hrs southwest of Brisbane.

Style
Face, slabs and steeps

Protection
Mostly Sport

Gear recommendation
The Crown is a really good place to practice true friction slab climbing, so bring some shoes that are suited for the task – think La Sportiva Mythos or TC Pro, or Scarpa Force V or Helix.
Classic Route
Snail Trail (26) – a technical testpiece. Super thin and very sustained.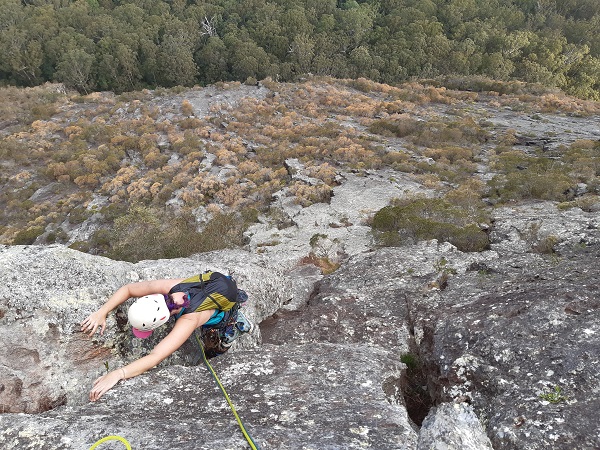 Gilliant Herriot on final pitc of The Martian (17) on Beerwah South Face
Mt Beerwah
Beerwah is the tallest of the Glasshouse Mountains, though strangely one of the least frequented. There are many different sectors offering anything from long, adventurous trad routes to short, well-protected sport climbs. Mosquito Wall has recently been rebolted and offers an excellent alternative to Andromeda and often without the crowds. For those looking to get a start on multipitch climbing, there are some excellent long moderate climbs on the South Face with good protection and rock. Some even have bolted anchors to facilitate retreat if your tentative push into this style doesn't quite go as planned!
Location
Glasshouse Mountains National Park. About an hour north of Brisbane.

Style
Miles o' slabs

Protection
A mix of sport and trad.

Gear recommendation
For multipitch routes, a sleek but functional backpack is essential to carry water and food, as well as stash gear for the descent. I really like the Osprey Mutant, we've got it here in a couple of different sizes and colours.

Classic Route
The Martian (17) – a perfect introduction to long, mixed routes with over 300m of excellent rock and ample gear.
Mt Maroon
Mt Maroon is a remote peak with big adventure. Maroon is most famous for everybody's first adventure climb, Ruby of India (16). Whilst this route features some excellent positions, there are plenty of other routes and sectors to explore. If you want to clip some bolts, there is an excellent sport crag named Paparazzi Cliff, but the northern aspect means it is best visited as a winter crag. Other sectors are decidedly more adventurous but offer potential for shaded climbing – Viewpoint Buttress is worth a look, and Maggie's Farm offers Frog-like columns deep in the scrub.
Location
Mt Barney National Park. About 2 hours southwest of Brisbane.

Style
Adventurous climbing with a sense of remoteness

Protection
Mostly trad

Gear recommendation
You'll need a well-rounded rack for this joint. A standard rack of cams and nuts is great, but you'll definitely want some microcams, and some large hexes don't go astray.

Classic Route
Jezebel (16) – a single pitch route found on the Tourist Track. Looks improbable but climbs brilliantly if you have small cams and wires.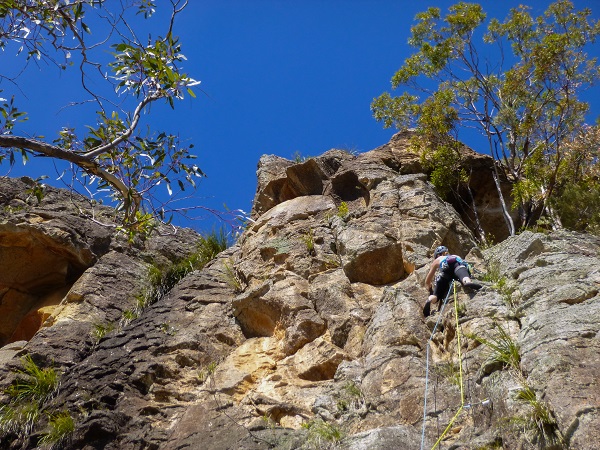 Morag Stewart on Brunhilde (17) at Paparazzi Cliff
For more information on these crags, check out the South East Queensland Guidebook https://www.pinnaclesports.com.au/south-east-queensland-climbing-guidebook-s18 or theCrag.com