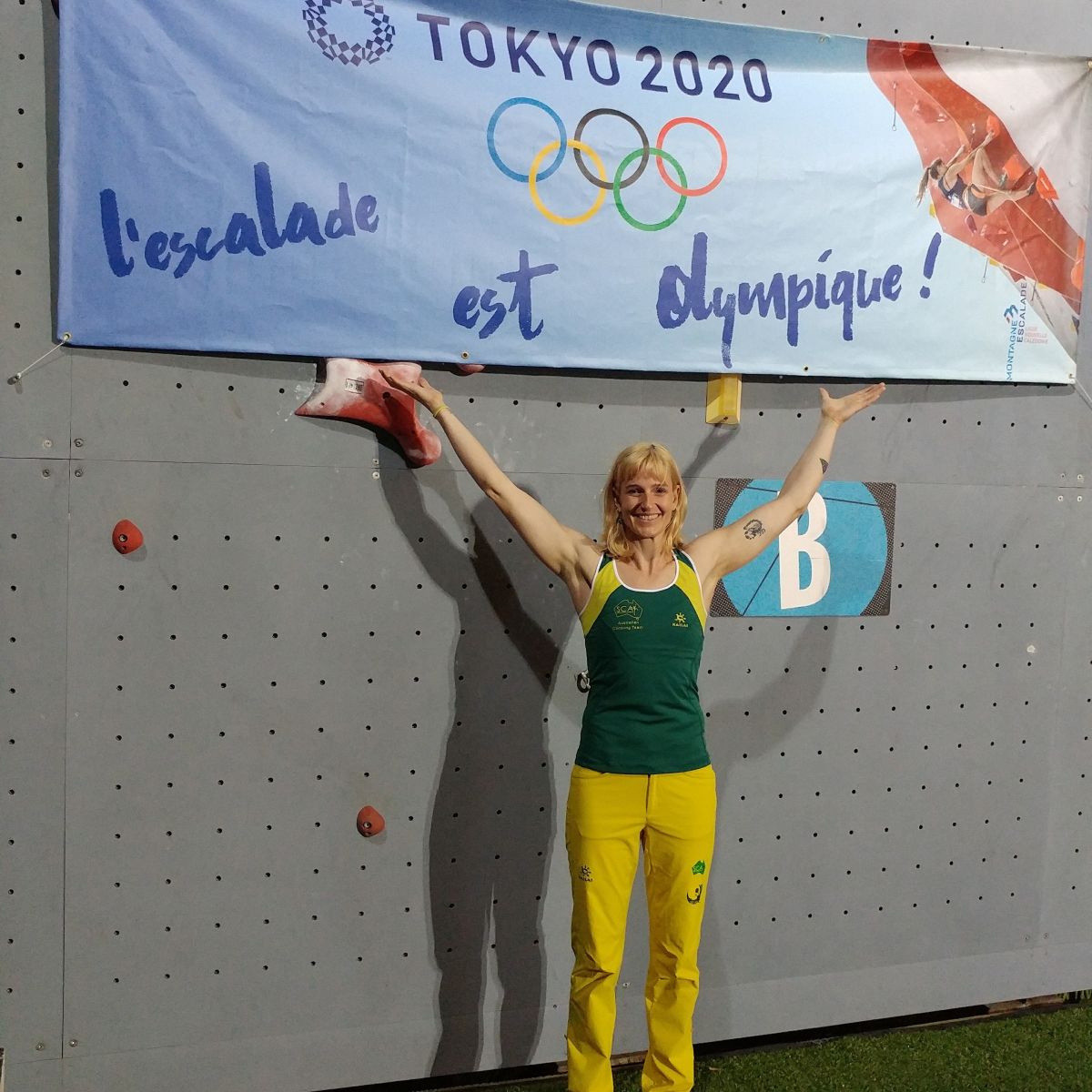 Written by Pinnacle Ambassador Tiffany Melius
Olympic Debrief: August 4-7, 2021
On August 4, 2021, history was made in our sport. Climbing became Olympic!
As some of you know, I trained as a hopeful to qualify for this event, but circumstances around COVID-19 effectively forced me to relinquish that dream. Part of my process in getting closure was to watch all of the rounds of competition. So this debrief is completely biased and will focus on my observations of the highlights and critiques of the competition. Hopefully it will also give you an idea about the competition overall, and what might be the most exciting bits to watch in replay!
Comments on the format:
We all know that it was a strategic decision by the IFSC to combine all three disciplines (speed, bouldering, and lead) into one event, to ensure that all were showcased at its Olympic debut (where only one medal set was available). This was a smart decision, and while not all competitors were happy about it, it meant that all disciplines have now been adopted (with two medal sets) in 2024 (and hopefully three medal sets in subsequent years).
Final results = speed place x bouldering place x lead place, and lowest score wins.
This competition and format emphasized the power of the win (the three men's podium places were taken by the winning man in each discipline), and especially in speed - the deciding factor in the surprise gold medal for Alberto Ginés López in the men's competition. This showed up in a couple of ways:
By winning in any discipline, all other results are multiplied by a factor of 1, resulting in a high overall placement despite potentially lower results in ⅔ disciplines. The power of the win places emphasis on specialisation in one discipline, over being good or excellent across all three disciplines (but not winning any). Second place effectively doubles all scores so the difference between 1st and 2nd even is significant.
This was well demonstrated by 4th place in the women's final with rankings of 1st in speed, 8th/last in bouldering, 8th/last in lead. The same competitor qualified for finals with 1st in speed, 20th/last in bouldering and 19th in lead.
A slight advantage in this format is currently in favour of speed specialists due to there being fewer of them. When compared to the depth of the field in the other disciplines, there is a higher level of competitiveness and it is more difficult to secure a win in bouldering or lead.
With the speed specialist taken out of the men's final by injury, the field opened up to 'middle of the pack' speed climbers (lead/boulder specialists). The high-risk nature of the speed competition resulted in a number of slips which launched slower speed competitors up the results table, and a first place which ultimately decided the gold. In the Olympic competition this scoring system resulted in the unexpected win in the men's final with the rankings of 1st in speed, 7th/last in bouldering, 4th in lead.
This was the best that the IFSC could do given the options, but I'm looking forward to Paris 2024 where speed is given its own medal and results in the lead and bouldering combined competition can be more consistent - based on disciplines with more similar demands.
Olympic debut: Men's Qualifiers
Speed - the climbing was straight forward and there were no real upsets. This was exciting to watch as the fastest round in the whole Olympic Sport Climbing competition, and the first ever Olympic Speed climbing record was set at 5.45 seconds.
Bouldering - on the whole the problems were fairly uninspiring, and I thought unfairly favoured the taller competitors. One good example is that tiny Kai Harada was not able to get into the bat hang starting position on problem 4 because the foothold was simply too far away. The video production was quite terrible in parts - long close-ups of Jongwon Chon resting, scrubbing, chalking up, while the commentators were getting excited over zones and tops offscreen. It really needed more full wall shots to capture the action on multiple problems simultaneously. The stand-out performance was from Mikael Mawem who won this discipline over some crowd favourites (namely local Tomoa Narasaki). The event duration, amount of time competitors spent on the mats (vs on the wall), and complexity in scoring for this discipline made it seem much more tedious to watch than the other two disciplines (even though for me it's the most exciting to compete in!).
Lead - a well-set route with a couple of surprises in the results, and unfortunately no tops (but oh so close!). The fancy 360 camera rotations (a la The Matrix) worked well with moves working around the prow in the middle of the wall, and it was easy to tell who won this discipline (whoever got the highest). Poor Bassa Mawem ruptured his biceps tendon, falling low, but such is the power of the win (speed in his case), he still made finals.
Women's Qualifiers
Speed - a mostly expected round with only a disappointing performance from former speed world record holder Iuliia Kaplina to surprise. Aleksandra Miroslaw's win put her through to finals.
Bouldering - in a round dominated by Janja Garnbret with a perfect score (4 tops in 4 attempts), there were a few surprises in results sending women both up and down the field. Again the problems were fairly uninspiring, but overall a better round than men's bouldering qualifiers. Two problems seemed to suit the smaller climbers - spacing between holds being easier for them to fit their bodies in, and mini jugs being not-mini jugs for smaller fingers - however stronger climbers were able to use other strengths to compensate.
Lead - this was another well-set route that again noone was able to top, with an unfortunate foot slip by Janja Garnbret cutting short her opportunity, and an impressive attempt by Seo Chaehyun. Laura Rogora, one of the smaller competitors who does not enjoy dynamic movement, showed how powerful (and tiring) finding static sequences through dynamic sections can be. One interesting incident was watching Aleksandra Miroslaw ask for a 'take' just 12 moves into the 40+ move route. Barring injury or other extenuating circumstances, it is unfathomable for me that this would happen in an Olympic competition. Presuming that this came down to her discomfort with the discipline, this further highlights for me the need to split the disciplines in the future.
An impressive performance by Viktoriia Meshkova in both bouldering (6th) and lead (5th) made it disappointing that she did not make finals due to a 15th place finish in speed (vs for example Jessica Pilz who made finals with 11th in speed, 9th in bouldering and 2nd in lead).

Men's Finals
Speed - With only 7 competitors, and the speed specialist out (Bassa Mawem not competing due to his injury), speed became anyone's game. With a couple of slips by those expected to perform well in Bassa Mawem's absence, Alberto Ginés López shot to the top of the standings.
Bouldering - A great round and mix of boulders and some great performances saw Nathaniel Coleman take the top spot. Disappointingly the 3rd and final boulder didn't see a send, however it was aesthetically pleasing - a 'rising sun' paying tribute to the host country - the land of the rising sun (Japan). Watching the competitors one at a time and seeing how they solved each problem back to back was more engaging than the sometimes chaotic qualifiers format with multiple climbers on the wall at once.
Lead - With the final competitor (Jakob Schubert) seeing the only top, and final placings coming down to his performance, this was the most exciting round of the whole competition! A nail biter right to the end! A well-set route that separated the field well, and gave us a great show. Adam Ondra and Tomoa Narasaki missing out on medals was a big surprise to many.
Overall Placings: Alberto Ginés López (ESP) took first - controversial, but fairly earned within this format, Nathaniel Coleman (USA) second, and Jakob Schubert (AUT) third.
Women's Finals
Speed - Aleksandra Miroslaw set the new World (and Olympic) women's speed record of 6.84 seconds in a head to head competition with Anouck Jaubert - another speed specialist. The race was incredibly exciting with the neck and neck action lasting until the final dyno on the route where Jaubert stumbled.
Bouldering - Probably the most boring round of the entire Olympic competition, the problems just seemed too hard for the fatigue level of the climbers, took too long (almost all climbers timed out on every problem), and not even the ultimate winner, Janja Garnbret (who was the only person to top ANY problem in this round), completed problem 3. Two 'almost tops' for Brooke Raboutou were probably the most heartbreaking close calls of the competition, however she still managed to place second in the discipline.
Lead - With the top spot decided before the last couple of climbers, Janja Garnbret proved she is indeed the Queen of Climbing. A tough foot slip took Brooke Raboutou out of medal contention, and unfortunately there were no tops of this route at all.
Overall Placings: Clear favourite and dominant winner Janja Garnbret (SLO) took the gold, with Miho Nonaka and Akiyo Noguchi of Japan rounding out the podium. After competing for many years on the international circuit, Akiyo is now retiring from competition. I'll be sad to see her go as her style and evolution as a climber has mirrored mine, and I have taken much inspiration from her over the years.
In Conclusion
What a great debut for our sport on the Olympic stage! And so much room for us to grow!
I shared my emotion around this Olympic debut on my Facebook page, and I feel it is worth repeating. The sport that has shaped my identity since I was a teenager, my Aussie roots, and my Canadian home gave me plenty to be proud of over the past four days.
Watching live in the middle of the night, the first Olympic climbing ever - men's qualifier speed runs - I am overcome with emotion. Not sadness I am not there, but such happiness that my sport has progressed to such heights (pun intended) in elite sport, and that I have had the privilege to play a little part in that history through my early work on national sporting infrastructure, as a coach, and through being a competitor at all levels.
I am so proud of every competitor who is there, and every competitor who has tried to be there, or even been a part of the early competitions that have led us to this point. Our sport is so young and there are so many opportunities still to come for the youth in our sport!
And thanks to the officials, routesetters, coaches, support crews, sports scientists and International Federation of Sport Climbing (IFSC) for all your work that has progressed us to the world class status we now have.
Faster, higher, stronger indeed.
A special shout out of pride to those representing my two home countries:
*Tom O'Halloran who I had the privilege of coaching when he first started climbing at age 12;
*Oceana Mackenzie who was the front runner for the Olympic spot since she burst onto the Open comp scene at the age of 16, and who inspired me with what is possible for Australian women in international competition;
*Sean McColl who was on the local gym youth team with my partner Simon Parton, and who has shown us all that you can actually live as a professional competition climber, and be competitive even as a veteran; and
*Alannah Yip my onetime teammate, training companion, friend, and rival, who has lived a long and challenging road to get here, but who put everything into her dream and now is living it.
I am so proud of you!!! Now to enjoy the show!!!
It has been my honour to play a little part in this Olympic journey. Now on to new adventures...