Review by Peta Barret
I'm a guide so I'm used to carrying a big pack, but sometimes, when you're not actually working, you just want to carry a smaller pack. I usually live out of my osprey porter 46L. Its brilliant, it expands to fit a heap of guiding gear and I can compress it right down take it on board a plane… but it's not a light pack.
The Mutant 22L, however, is super light. For its size, it can fit in a lot more than I have in other, supposedly larger, lightweight 36L packs. The wide mouth top opening makes it super accessible to all your goodies inside but best of all, for those of us who travel a lot, it flattens out to almost nothing when empty. The shoulder straps are surprisingly comfortable too! It has loops so you can clip your sweaty climbing shoes to the outside to air. There is also a strap to attach your rope on top.
While ideal for multi-pitching, we've found the mutant 22L perfect as the go-to light pack for everyday use when you don't actually need to carry everything you own!
Review by Alex Mougenot
When I go out climbing, I don't mind climbing loaded up with exorbitant amounts of gear. Full double trad rack? Fine - weight training. A set of hexes? Sure – style points! But a backpack? Oh hell no! They're bulky, annoying, and cramp on my style. The carrying of a backpack is always the seconder's job. Which is why I always try to lead. At least, this is my past climbing ethos, as after busting out the Mutant 22 last weekend out at Mount Maroon, I've seen the light.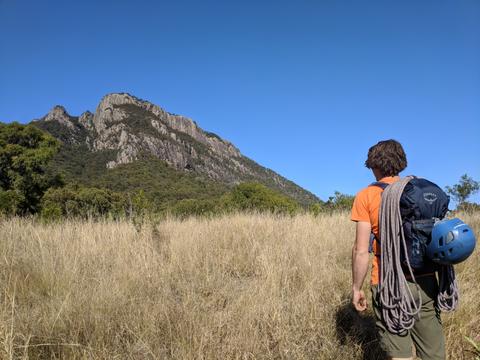 Phaedra. A classic line that is the gold standard of Queensland adventure climbing. Many have gazed upon the beautiful blank face, but few have climbed it. It is renowned locally for its heady runouts and sheer exposure, and to me, it had somewhat of an unapproachable aura about it. It got me so psyched thinking about it, but it also scared the heebie-jeebies out of me. The first time I'd tried it, I'd climbed with my old "light" pack, but it was bulky and awkward to climb in. It was not a nice experience climbing high up, scared and runout, and having to deal with an annoying bag getting in the way all the time … I had enough to think about.
It's not the weight of them, really, it's how intrusive they are to my climbing. They usually cover the harness gear loops and make chalking up more trouble than what it's worth. Too many times have I quested a sweaty hand behind me seeking some chalky goodness, only to find that my chalk-bag is on the other side of the pack - or squashed under it. This typically results in words (and tears) that I'm not proud of, and really detracts from the experience of the climbing.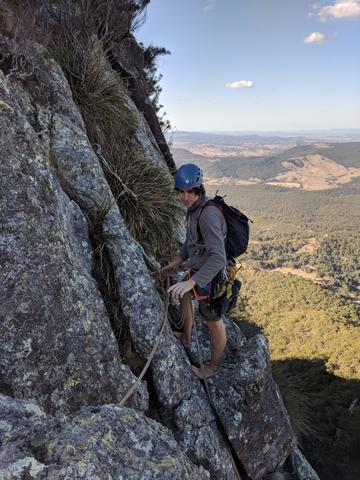 My experience this time around on Phaedra with the Mutant was awesome! It fit snug to my back, and when I pulled the shoulder straps taught, there was enough space for chalking up. To be honest, I didn't even really think about my pack on the climb. Another subtle contributing factor to the phantom-like nature of the Mutant was the minimalist waist straps … there is no extraneous padding. It's just webbing. This means that the padding doesn't cover the gear-loops, and so finding those crucial bits of gear when you're stressed and exposed off your face and gunning for your next placement. (See the roof on pitch 2!) The outside of the pack is quite void of other straps and features, so there is a low chance of getting snagged on trees and knobs of rock. Another thing about the pack that I found super handy was the fact the it had a really wide-mouth opening that opened towards the front of the pack – a subtle yet major difference to most day-packs I've tried. At belays between pitches, it was super easy to bust open the top of the pack and have easy access to everything while the top of the pack was clipped to the anchor, as the pictures show. In other daypacks, the backwards-opening top opens towards the anchor and means that you're always fighting it closing itself when trying to fish items out of the pack. +1 for ease of use!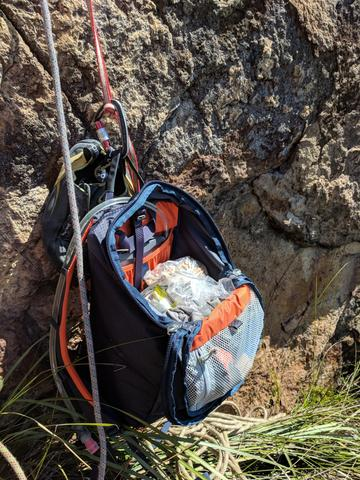 The Mutant 22 is now my main multi-pitch adventure climbing companion, and it's been out with me on every multipitch since. Solid, minimalist, well-thought out. A backpack that works with you, just like a good climbing partner. Sweet!
Pros
Comfortable

Compact and fits tightly to the back

Allows room above hips when shoulder straps are done up tight

Allowing easier gear and chalk access

Wide mouth and bag girth for ease of access to gear. I really really liked this!
Above bullet also makes it easy to pack!
Valuables pocket is on the inside, and is surprisingly easy to access as the whole top flaps open
Rope strap is a bloody gem! It is the first pack I've used with this feature, and its what my life has been needing for a long time. I barely even noticed the rope on the hike-in and the scramble! Holds the rope nice and high, and is very secure.
Fairly breathable, although it wasn't a hot day
Cons
More valuables space would be good to store snacks. Perhaps an inside pocket
No helmet carry attachment on the front of the pack.
Click here to purchase your very own Osprey Mutant 22L pack!