Written by Steve Thompson
Earlier this year, I was in the market for a new boulder mat. I wanted something big and was torn between the Black Diamond Mondo and the Metolius Magnum. In the end, I ended up going with the Magnum due to its superior harness system. While I really enjoy the Mondo as a landing surface, I really don't enjoy carrying it for more than five minutes. At 8.48kg, the Magnum does weigh slightly less than the Mondo at 9.25kg, but the superior harness system actually makes it feel like there's an even bigger difference than that.
The tri-fold also results in a narrower profile while on your back, allowing you to walk through tighter paths without issue. However, the flip-side of this is that the pad takes up more vertical space and you will no doubt end up getting caught by some low branches. Having carried both wide-and-low and tall-and-narrow pads, I think I do prefer the tall-and-narrow but there's not really a huge difference.
The Magnum has a very large surface area (120cm x 178cm when fully unfolded) and is decently thick (10cm). There are definitely thicker pads out there (e.g. the Mondo at 12.5cm) and if you're a high-ball fiend, you might be tempted to go with one of those pads instead. But for all-round bouldering, the Magnum is definitely thick enough to provide a comfy landing surface.
One drawback of the Magnum is that, even compared to other big pads, it isn't the most car-friendly mat. The tall-and-narrow profile makes it an awkward shape for fitting into car boots. I drive a Mazda 3 sedan and can only fit the pad in the car by folding down two of the back seats. If you have a larger car or, even better, roof-racks, then you will probably not have any issues, but a smaller car might struggle to fit it in at all. It's definitely worth doing some measurements of your car before committing to a purchase.
Where the Magnum really shines is its landing area, especially on uneven ground. Because of it's tri-fold nature, it can be used to protect edges without having to turn it upside down and risk getting your feet caught in the carrying straps. Check out this set up, using one third to protect the sharp edge of a big rock that's directly under the boulder line: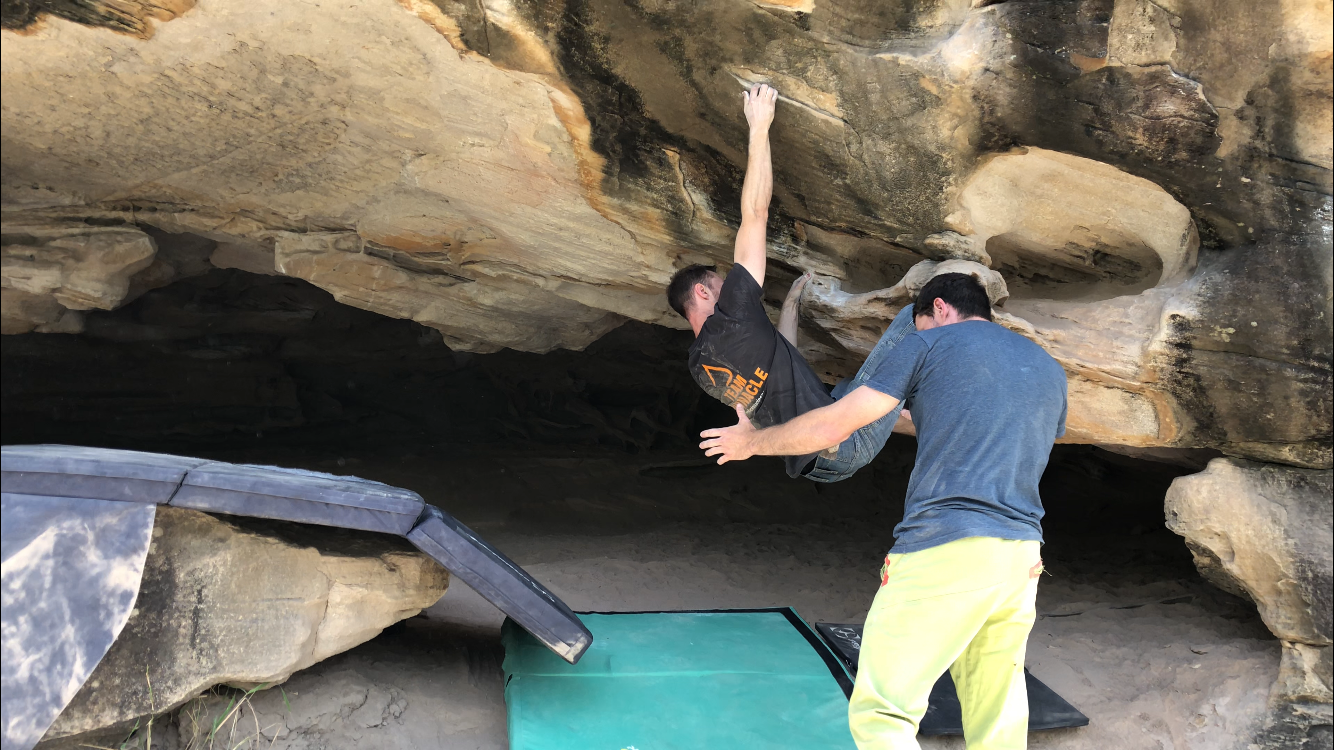 Metolius advertises the pocket flap as a place to store your gear, but I don't think I've used it at all. It really is just too small for anything more than a chalk bag and shoes. No chance of fitting water, jumper, food, etc. What I have ended up doing is tucking a bag at the bottom of the pad, using the main strap as pictured below.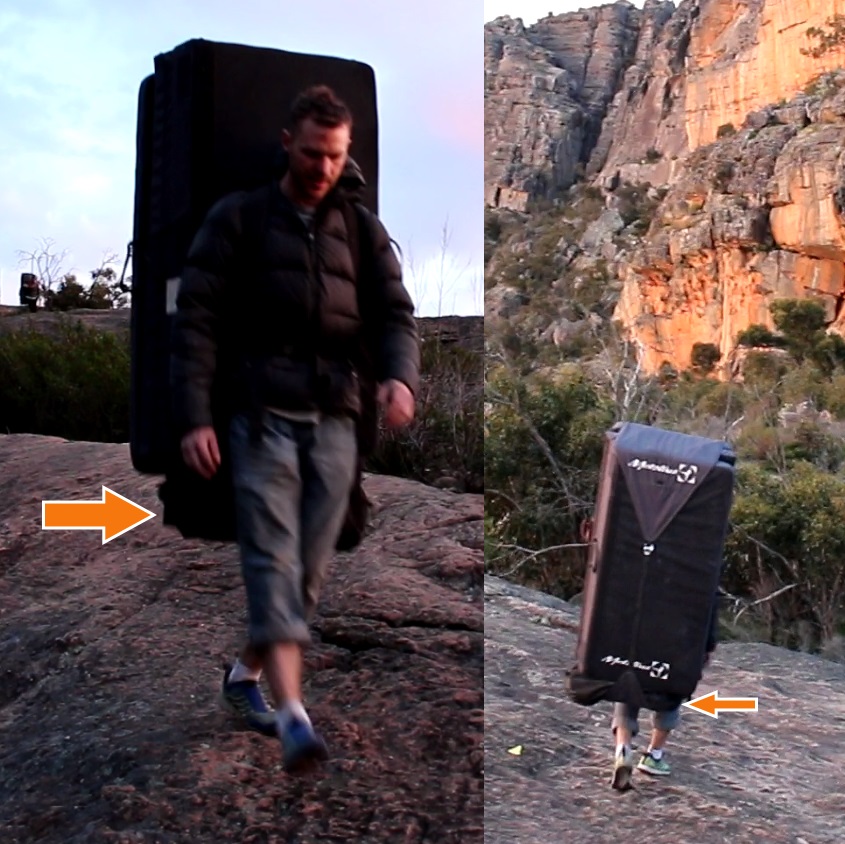 This works fantastically! It maintains the profile of the pad and the weight distribution stays the same. The only downside to this approach is that my feet sometimes get caught under the bag when walking down steep terrain. So far this has only been a minor annoyance.
I can't yet speak to the longevity of the pad as I've only had it for about six months. I can say that it has held up quite well to the demands so far, including a 2-week Grampians trip where it was being thoroughly abused everyday. The straps, buckles, and canvas surface show no signs of wear and the foam has not noticeably softened. Time will tell if the foam will continue to hold up to repeated falls, but it's certainly doing a good job at the moment.
SUMMARY: the Metolius Magnum is a fantastic boulder pad for protecting large surface areas and uneven ground. Although it is big and heavy, the tri-fold system, waist-belt, and padded shoulder straps make it easier to carry than other similarly sized pads. Having used many boulder pads over the years, it's impossible to say that any one pad is "the best pad", but I can say that I am very happy with my decision to purchase the Magnum. However, you would be well-advised to measure out your car to confirm that it will fit before buying.