Written by Peta Barrett and Scott Hailstone of The Traveling Climber.
Homemade rigid dogbones - hose pipe or a coat hanger threaded through tube tape and ending with a carabiner that can be triggered closed - are nothing new.
Personally we have previously avoided them as they always felt somehow like "cheating". We were also a bit worried that once we started using one, it would be a slippery slope ending with a diminished capability for toughing it out above the bolt!
We've been traveling with a Beta stick clip for the past couple of years and seen the benefits, so this trip we thought we would test out the
Kong Panic
draw.
We had imagined that it would be most useful in strung out situations where the bolt is just out of reach, however, under pressure, we initially forgot it was on the back of the harness. It took us awhile to get used to having it as an option, but when we did, it was a game changer.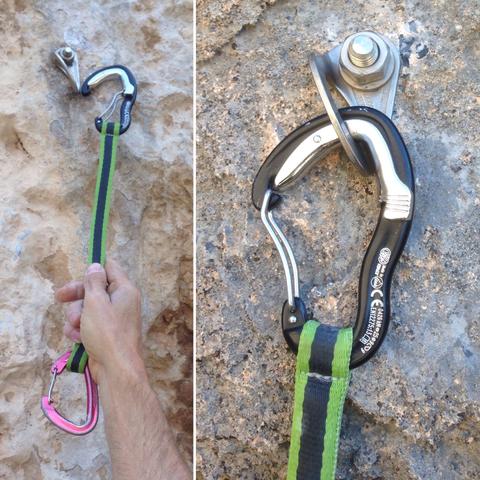 The Kong Panic in use - pulling down once the biner is in the bolt triggers the gate to close.

A quite unexpected use of it however, is after you have fallen off the route you are trying to onsight. Once you've blown an onsight, you'll want to be thinking about going into energy conservation mode for the redpoint. Usually with sports climbing, as the grade increases, the bolt spacing decreases at the crux. So instead of thrashing yourself trying to work the crux move, it is not a bad option to pull on the crux draw and clip the next bolt, so you can work the move from above. The Panic is really handy in this situation as it dramatically increases your length of reach to be able to do this.

Previously in this situation, we would send down for the Beta stick. The benefit with Panic is that it is easy to carry with you and you can retrieve it for reuse once you have clipped above it. For those that don't have a Beta stick (or other stick clip), the Panic also minimises having to bail and leave a bail biner.
Another good use for the Panic are when you most certainly must go up, for example, multipitching, where the only way out is up! Carrying a Beta stick is too dangerous on lead (you don't want to land on it during a fall) but the Panic is perfect here.
The Panic comes in two lengths,
30cm
and
45cm
. We went for the shorter option and have been pretty happy with that choice. Being that we are both average height, the shorter one works well. A shorter person may appreciate the longer version but just be aware of how much it dangles behind you. We've seen a lot of people with much longer home made options banging around their ankles on lead - probably not a good thing... The trigger biner sets itself automatically when you detach it from your harness and is easy and quick to use single handed.
Overall, the Kong Panic is a very useful utility item for any climber - especially those tackling difficult sport climbs.
Pick one up today!