So you've caught the climbing bug and want to take it outside of the gym? We're here to help. When taking your bouldering skills outdoors, there are a few things you need to know before kitting yourself out for a grand adventure.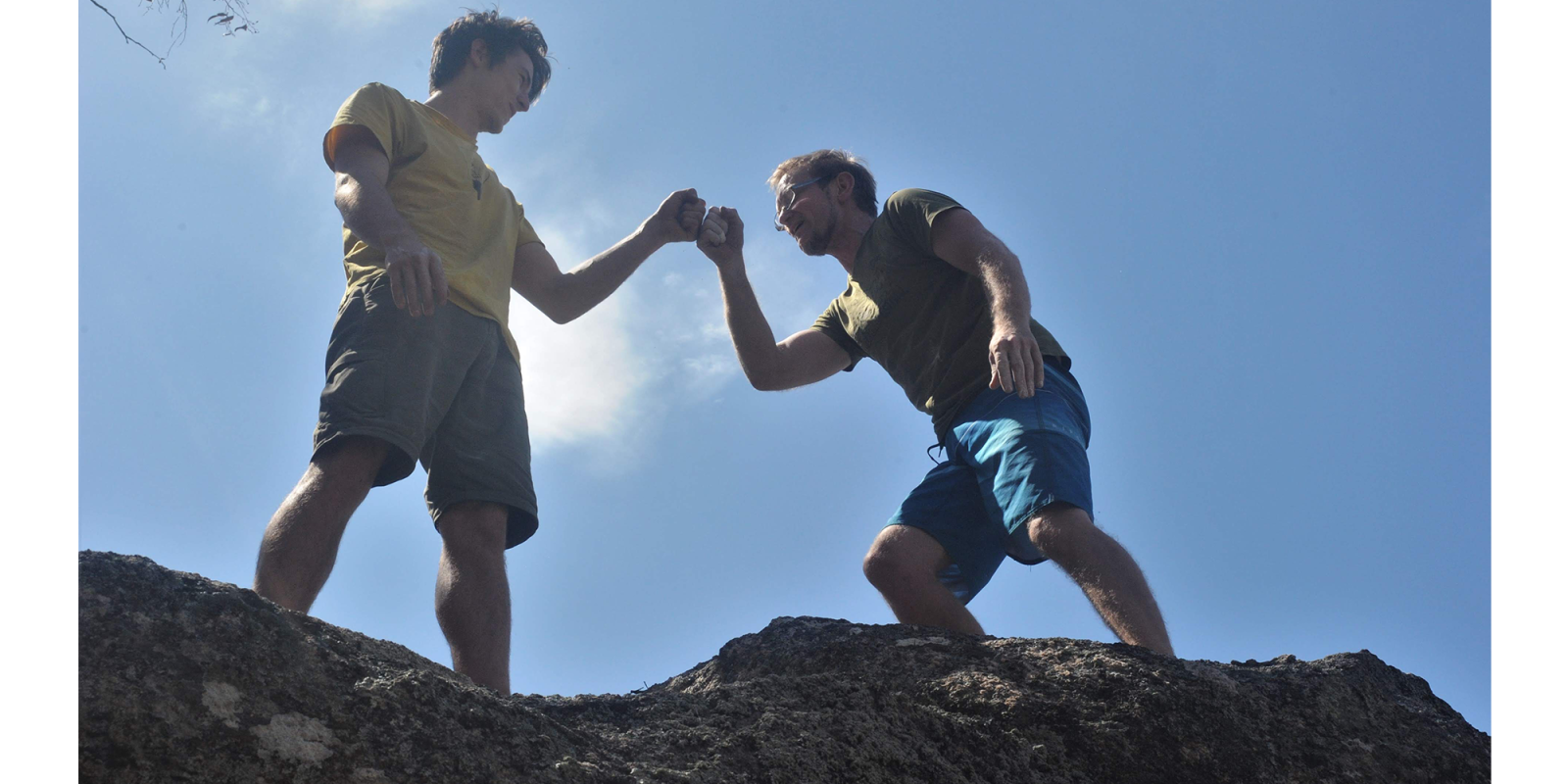 Spotting
While spotting isn't required at most indoor bouldering gyms, it is essential to the outdoors. The purpose of a spotter is to guide a falling climber into a protected fall zone to prevent awkward falls. As the fall space is limited to how many boulder mats you are using, the job of a spotter is to move the mats to match the climber's fall zone. If the climber falls, the spotter should push the climber towards the mats, keeping thumbs tucked in, hands pushing the upper body area up so the head does not come in contact with the ground. Once a climber is on the rock, it is best practice for the spotter to raise the arms above their head, in preparation for an unexpected slip. We would recommend spotters to lay their mats overlapping, to avoid nasty falls through weak points and landing between mats.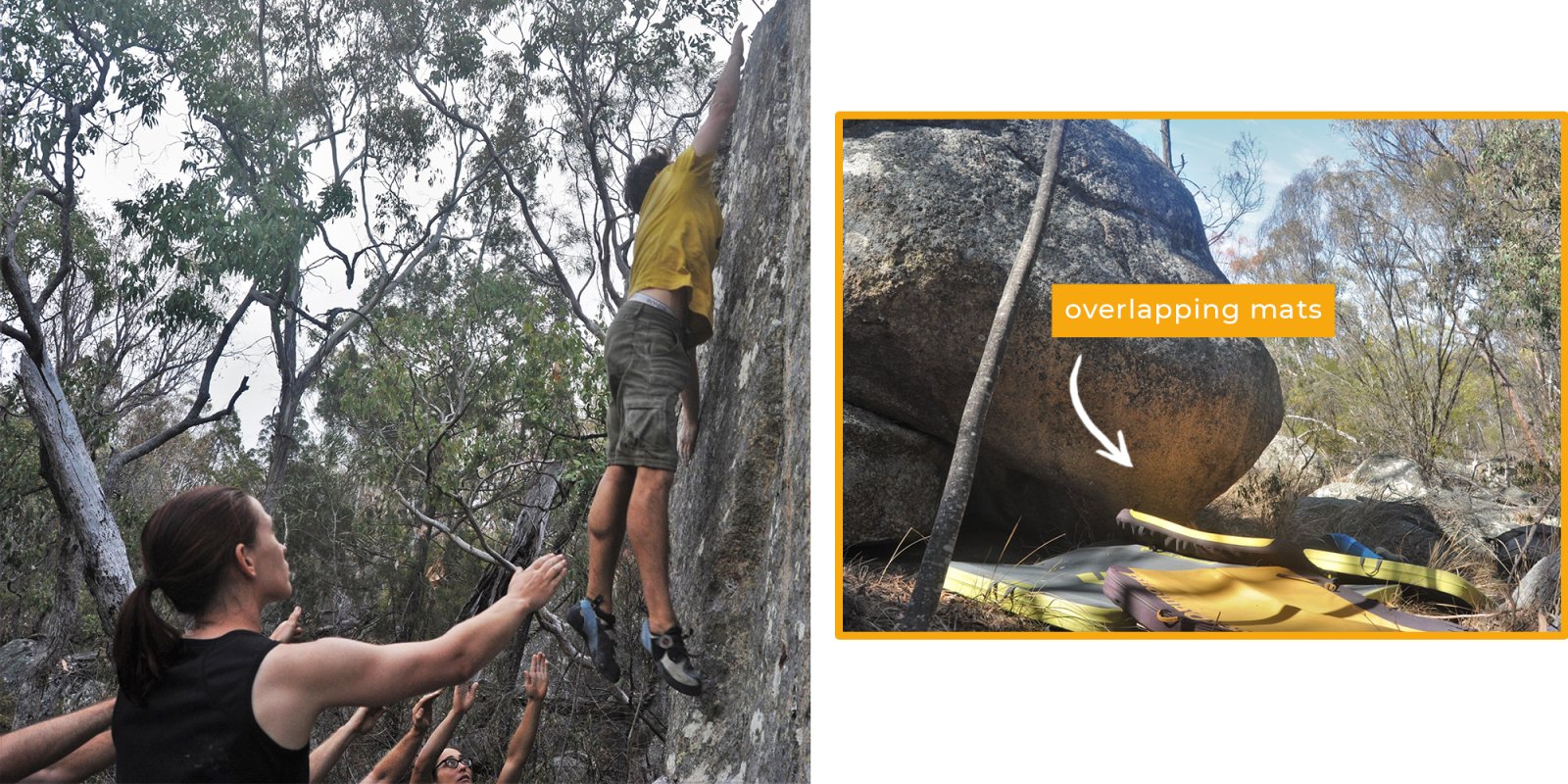 Etiquette
Most of us have heard of 'Leave no Trace', but it means more than picking up your litter at the end of the day. Every time you chalk up, chalk marks are left on the rock. Bring a brush and clean up your tick marks and fingerprints, leave the orchids and other epiphytes there for other users to enjoy. Avoid using liquid chalk outdoors as chemicals/resins in the liquid chalk can damage the rock.
Keep to designated tracks and where possible avoid crushing vegetation with your mats, the critters need a home too!

For more information check out ACAQ's Code of Conduct and Climbers Guidelines.
Equipment
Boulder Mat. (see our guide on how to choose a boulder mat here). Want to try before you buy? We've got a selection of boulder mats available for hire for just $20 a day per mat.
Climbing Tape. Whether it be the roughness of granite at Passchendaele or the sharpness of glass-like quartzite at Toohey Forest, you'll want to protect your hands. As well as its uses for preventative muscle and tendon strain, tape is great for protecting your skin against rough rock. Got a flapper? Pop a bandaid on, wrap it in tape, and keep on climbing. The threaded weave of climbing tape gives solid protection against abrasive surfaces compared to regular medical tape.
Chalk. Make sure you brush away your markings after your session.
Boulder Bucket. This style of bag makes it easier to chalk up between climbs, as well as being accessible to all your climbing buddies at the crag.
Brush. Clean those manky holds and 'leave no trace' built all in one. Brushes come in a variety of sizes, wide brushes for scrubbing those chossy slabs and narrow brushes for precise pockets and rails.
Guide Book. If you're venturing into the great outdoors, it's good to know where you're going. All of your guidebooks have detailed explanations for the approach to the crag, pictures of the boulders themselves, and routes outlined. Each route is graded a 'V level' with special climbs rated with a star rating. Climbs have a star rating; the more stars a climb has, the better the quality it is considered by the community. South East Queensland now has its very own guidebook with 11 locations to choose from.
Skin Care. After a solid session in the great outdoors, you may notice more of your skin peeling off than your usual gym session. We've got a great variety of skin care products in store that are created specifically for climbers to maintain healthy calluses and heal skin under stress.
Pinnacle's Pick:
Hand Jam