THE MATERIAL
Hard Shell
A hard shell helmet, like the Black Diamond Half Dome, offers better durability at a lower price compared to a soft shell helmet. The drawbacks are that they are heavier, offer less protection on the sides, and often aren't as stylish as their soft-shell counterparts.
These helmets are great for belaying or climbing below other groups on multi-pitch climbs as they offer excellent protection against rock fall. Unfortunately, they tend to not be as good as protecting a climber's head during a fall where they are more likely to impact the sides and back of the head.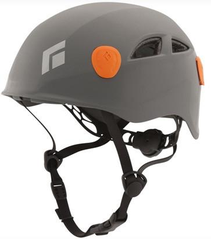 The hard-shell Black Diamond Half Dome.
Soft Shell
A soft-shell helmet, such as the Trango Halo is made from polycarbonate and serves as a lightweight shield that provides good all-over coverage to the head. In addition to being lightweight, they tend to be well-ventilated, which helps keep your head cool on those intense send attempts.
The drawbacks are that they are more expensive and less durable than a hard-shell helmet. Because of the way they are designed, manufacturers recommend that they be retired immediately upon any impact that causes deformation in the helmet.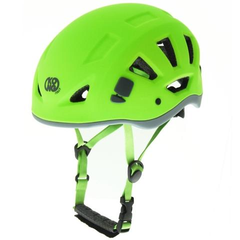 The soft-shell Kong Leef.
THE FIT
It's important that your helmet is comfortable, otherwise you won't wear it! Climbing helmets tend to be quite adjustable so you shouldn't have too much trouble finding one that fits your head, no matter how strangely it might be shaped.
OTHER FEATURES
There have been a few innovations in the climbing helmet world recently. Companies are starting to come out with hybrid soft/hard-shell options, such as the Mammut Wall Rider. This allows for greater side and back protection while maintaining the important sturdiness that protects the top of the head from falling objects. The Wall Rider also comes in a Multi-Directonal Impact System ("MIPS") model, which incorporates unique technology to further soften any impacts.
CONCLUSION
Your choice in helmet is largely dependent on the type of climbing you'll be doing. If you're doing hard sport climbing where the chance of an awkward fall is higher, you'll likely want a soft shell helmet for the better all-over protection. If you're doing more top-rope or adventure multi-pitch climbing where the primary risk is falling objects, a hard shell helmet might suit you better.
Check out our range of helmets here.