It goes without saying that your harness is a very important part of keeping you safe when climbing! But that doesn't mean you should buy just any harness with the appropriate safety certifications - there is a lot to consider when choosing your harness. A harness that's cared for correctly can see up to 10 years of use before it needs to be retired (different manufacturers have different recommendations for retirement age), so it's worth taking some time to pick out the one that's right for you.
GEAR LOOPS
Gear loops on harnesses have come a long way since their inception with modern harnesses featuring wire-framed loops that hold their shape and ensure maximum ease when trying to quickly select a piece of protection to stick on the wall.
With gear loops, the main thing to consider is how many you want, and if you want a haul loop. If your primary focus is hard single-pitch sport climbing, you might only need one loop on each side, although four loops is common even on very lightweight harnesses. If you're going to be adventuring into the world of trad climbing or sport multi-pitch, you will want at least four gear loops. If you're shooting for some epic big wall adventures, you'll definitely want a haul loop and as many gear loops as possible.
If you're only climbing indoors, particularly if you're a competition climber, you don't need any gear loops at all!
BELAY LOOPS & TIE-IN POINTS
Unlike a typical rental harness, most climbing harnesses feature a belay loop that's separate from the tie-in points. The belay loop is the strongest part of the harness and is generally only used, as the name suggest, to belay from. There is debate around whether or not personal safety lanyards should be attached to the belay loop or the tie-in points, with many manufacturers recommending that the tie-in points be used instead. If in doubt, consult the instruction manuals of your specific equipment.
Some lightweight harnesses forego the belay loop entirely and only have two tie-in points. These are great for those hardcore climbers who don't want to carry any extra grams, but they're probably too extreme for the average climber.
Some big wall harnesses have two separate belay loops: when you've got more gear than you can shake a nut tool at hanging off you, the extra belay loop really helps with organisation.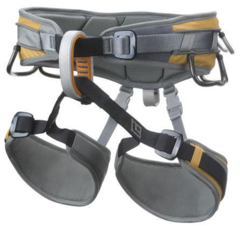 The Black Diamond Big Gun, a harness suited for big-wall climbing. Note the extra gear loops and double belay loops.
ADJUSTABILITY
Adjustability – how much do you want? Many modern harnesses are moving away from fully-adjustable leg loops, instead preferring to have a slightly elastic loop – especially lightweight harnesses. More heavy duty harnesses tend to keep the fully-adjustable leg loops. Another feature of the bulkier harnesses is that the waist loop has two adjustment points, which can provide a greater range and a more precise fit.
The advantage of adjustable leg loops is most noticeable for kids, allowing them to adjust the harness to fit their growing bodies. They're also good in variable weather conditions to accommodate the layering of clothing.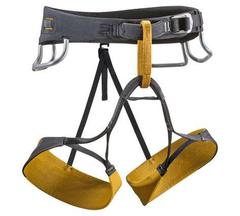 WEIGHT AND COMFORT
When you're pushing your physical and mental limits on a tough climb, every gram counts. But when you're spending all day in your harness while on a big wall adventure, you might be willing to carry a bit of extra weight for that additional support and comfort.
That's not to say a lightweight harness shouldn't be comfortable. In fact, when you're climbing, you should barely notice that it's there. When you fall (or when you catch a fall as a belayer) is when you'll notice the more limited support that it provides and you probably won't want to spend too much time sitting around with your weight in the harness.
With a heavier harness, you will definitely get more support when you're spending a lot of time sitting in the harness, but the extra weight and bulkiness might be the difference between a send and pumping out just before the anchor.
Click here to browse our range of climbing harnesses. Of course, like with climbing shoes, the only way to be sure of comfort is to try it on!