Written by Pinnacle Ambassador Ryan Siacci.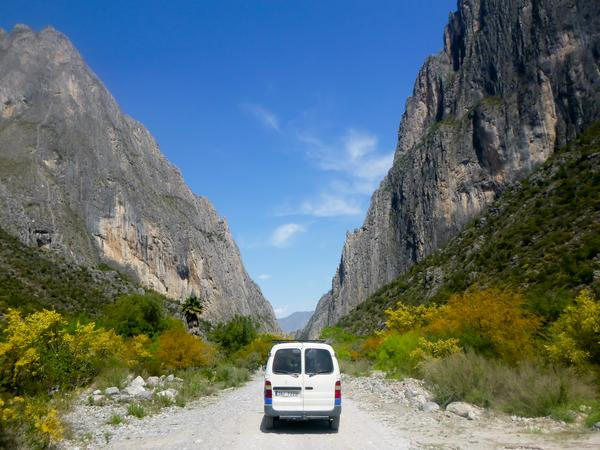 Imagine, if you will, the following scene…
Having spent the day climbing pitch after pitch of Mexican limestone, you finally rest your weary body on a tattered boulder pad. Surrounding you, the monolithic walls are awash with fiery sunset hues, and someone hands you a margarita with colours to match. It is strong and spicy, the rim of the plastic cup encrusted with a mixture of chili, lime and salt. Jim Morrison's husky baritone blasts forth into the desert twilight. High above, a climber is working the moves on a 5.11 testpiece, tonight's entertainment. Surrounded by friends, you recap the day's events and make plans for tomorrow…
This, my friends, is what they call paradise. It's almost as close as you can come to absolute bliss in a world such as this. It's the earthly equivalent of Heaven, Nirvana, Zen, Xenu or Valhalla, depending on your taste, geographical persuasion and degree of sanity. This is El Potrero Chico.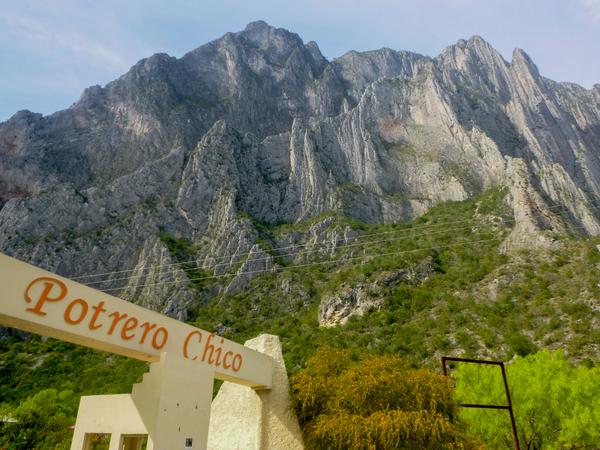 Translated, El Potrero Chico means "The Little Corral", but there's nothing little about it. The hulking limestone ramparts form an enormous ring, once imagined as a corral for bovines of titanic proportions. Some 10 kilometres in diameter, this ring of soaring grey stone can be seen hundreds of kilometres distant, but up close the scale is simply staggering. A narrow canyon bisects the northern perimeter, and it is here that the lion's share of climbing can be found.
This, for me, was the most surprising thing about EPC, that such an abundance of quality routes can be found in such a diminutive sample of available terrain. But I suppose you have to put yourself in the shoes of the route developers – why bother hauling your drill and 20kg of stainless steel up hill and down dale when there's plenty of perfectly good rock to be found right next to the road? As a result, this dinky little canyon, certainly no more than a kilometre in length, is home to more high-quality sport routes than you can shake a stickclip at.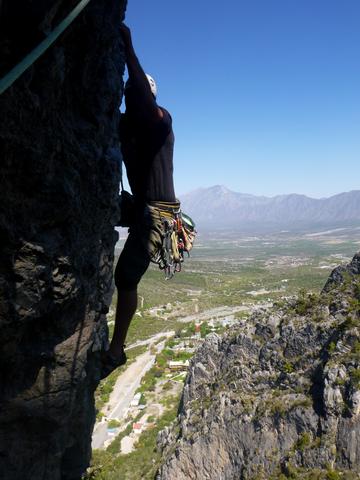 The single-pitch cragging is decent in its own right, but the classic multipitch routes are what truly put EPC on the map. These span the gamut of difficulty, from beginner romps on 3 pitch 5.9's to the implausibly epic 23-pitch 5.12a, Time Wave Zero – all fully bolted, and most with approaches that are measured in mere minutes. There are very few locations across the globe that could hold a candle to EPC's patented combination of adventure and convenience.

The majority of these multipitch routes fall somewhere in the moderate grade range, that is to say between 5.10 and 5.12 (roughly 18 to 24 Ewbank). This puts them in the Goldilocks range of difficulty, the sweet spot in which most climbers should be able to find something to suit their taste. Better still, most routes have excellent standards of bolting, consistently engaging climbing, and fantastic position and atmosphere.
Fully-bolted multipitch routes, especially in the moderate grades, are something of hot commodity. I wrote about this at some length in an article for Climbing Magazine, which you can read here if you are so inclined. But long story short, the supply of bolted multipitch routes is far exceeded by demand.
Case in point: Mt Tibrogargan - a mountain that houses 50 or so multipitch routes, 5 of which bear perhaps 90% of the traffic. Some of the old school trad horrorshows are lucky to have seen more than 10 ascents in the last half century, whereas the latest sport multi to be equipped on Tibro, Traxion Action (17), saw just as many ascents (if not more) in its first month. This seems like fair evidence to suggest that Australians (among others) are positively frothing for moderately graded, fully-bolted, multipitch adventures.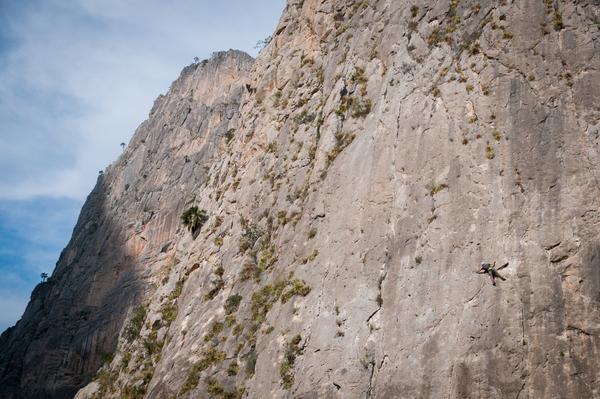 If you count yourself in that number, then look no further than El Potrero Chico to fulfil your most ardent desires. We sampled a fair selection, and would recommend the following classics: Will the Wolf Survive? (5.10a/18), Pancho Villa Rides Again (5.10c/20), Treasure of the Sierra Madre (5.10c/20), Snott Girls (5.10d/21) and Pitch Black (5.10d/21).
As for the rock quality, EPC occasionally gets a bad rap, and I think this is greatly exaggerated. Care must be taken on the knife-blade ridges where many routes terminate, as loose blocks can often be found in these areas. The routes, however, are largely clean, and I found that the tendency for limestone to become polished was less pronounced at EPC than at other crags. That said, some of the crimps are SHARP! Be prepared for your skin to take a few days to adapt, and be aware that your shoes will probably end up a little worse for wear.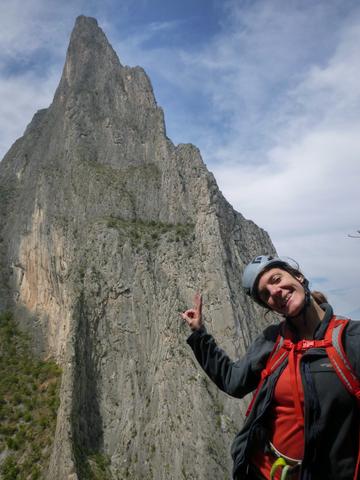 EPC has also developed a reputation for being overbolted and soft. Again, this is a generalisation, and I believe the reputation should be one of inconsistency rather than softness. Some routes are indeed stitched up, but others, particularly in the "easy" grades, can be disturbingly run out with bad fall zones. In fact, some folks opt to carry a supplementary rack of nuts for the occasional hairy moment. Irregularities in grades often occur on multipitch routes – for example, Dope Ninja, where the 5.9 pitch was harder than algebra and the 5.10b was significantly, inexplicably easier. In short, be prepared for shenanigans.

Apart from stellar climbing, there are a lot of other things to recommend EPC as an international climbing destination - the food is cheap and excellent, the camping and accommodation is great, and Hidalgo is a much safer venue than some other Mexican locales. That said, the amount of trash to be found in the area is somewhat dispiriting and every weekend the canyon plays host to a fiesta of epic proportions, which may be a blessing or a curse depending on your outlook.
Best of all, the winter is mild in this part of the world, and the season takes place during the Australian summer. Let's be honest, you're not climbing anything worthwhile in January anyway, so why not go clip a few hundred bolts at El Potrero Chico?
Ryan Siacci, Esq.
November 2018