So this one's a bit different: our staff were super keen to get their hands on the new Black Diamond ropes, so we've got two separate reviews for this one! Thanks Scott and Alex!
Editor's note 30/10/2019: the Black Diamond ropes are no longer available at a 9.6mm diameter. Black Diamond now offers 9.4mm, 9.9mm, and 10.2mm.
Black Diamond 9.6mm Reveiw
I was lent the new Black Diamond 9.6mm Rope to trial a month or so ago so, seeing as this is the "workhorse" of the new Black Diamond range, I took this to mean that I should put it through the wringer. And I did – happily.
We'll begin with the first step in the rope experience - uncoiling. I found that uncoiling the rope fresh from the packet was a lot simpler than some other brands. With other brands, some ropes still had twists in it 2 months after opening, even with doing it the correct way, arms through core and unwind style.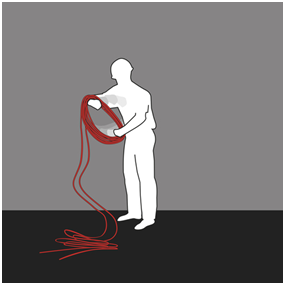 My first test session was at a local indoor gym and, usually, when a new rope comes in and is still in its packaging, people will come give you a hand to uncoil it. My guess is that they just want to touch and feel shiny new stuff. A few regulars set to work helping me uncoil, but after removing the packaging we all agreed it would come undone with very little assistance. While coiling it into a tub to keep it neat, I could feel the quality of the outer sheath. The rope feels smooth whilst also offering a high level of abrasion resistance, which, according to the packaging, is thanks to the 1x1 weave.
Next up was tying in. For me, this is the ultimate test. In many instances when a manufacturer touts their rope to be a "workhorse" it means that it will be stiff and difficult to tie simple knots like a stopper knot when new but after a period of use the weave loosens and the rope becomes more supple. However, the 9.6 handled well straight out of the bag. It formed into a well-dressed double-figure-8 very easily with minimal manipulation or tweaking required. As a side note we tied most of the commonly used climbing knots (bowlines, double fisherman's, etc) and the rope had no issues with any of those knots either.
Climbing and clipping were the next tests and it passed these with ease. The weight of the rope (62g/m) was barely noticeable and went smoothly through hand when drawing up to clip. I took a number of decent falls to see how gentle a catch the rope would give and, even with my heavier belayer not jumping, it does give a soft catch. In addition, the knot untied quite easily, despite taking four decent falls on it. Belaying with the 9.6 is also nice, my ATC XP and my partner's MegaJul both had no issues with the rope and found paying out for climbers to be very seamless.
Next was an actual field test and we went to Glasshouse Mountains for the day. We dragged it over a lot of rock and accidentally got it wet as there had been serious rain the week prior. Regardless of our shoddy practices, the rope handled this mistreatment exceptionally well.
The orange sheath did start to discolour noticeably after just 3 nights and 2 days of use. Obviously, this is more of a cosmetic issue than a safety concern but it's something to keep in mind for those of you who like a nice bright rope. Another issue that blurs the line between cosmetics and functionality is that the section of rope where the half-way point has been marked is a bit stiffer than the rest of the rope. It's unlikely to cause any real issues but something to be aware of.
Overall, the Black Diamond 9.6mm is a good quality rope that handles well right out of the package. The construction and technology involved mean that, even with poor rope management habits, you can still expect a reasonable lifespan from this workhorse.
Black Diamond 9.6mm Reveiw
words and photos by Alex Mougenot
Black Diamond is making ropes?!?! Whaaaat?!?!
From chalk to carabiners, slings to harnesses, crash pads to trad protection, helmets, quickdraws, belay devices, ice axes, crampons, ice screws, hand ascenders, portaledges, pitons … *takes a deep breath* … headtorches, trekking poles, clothes, backpacks, tents, and even skis - is there nothing that Black Diamond doesn't make? They even make balaclavas and freakin' backpacks that inflate to save you in an avalanche. They have been striving to cover all bases of outdoor adventure, and have been making quality products in almost every field they go for. However, when I heard that they were having a crack at climbing ropes, I was doubtful. The saying "jack of all trades, master of none" sprang to mind. Surely they can't compete in a market with at least 10 other brands of rope floating about! However, I have been pleasantly surprised: the 9.6 is a sweet, sweet rope.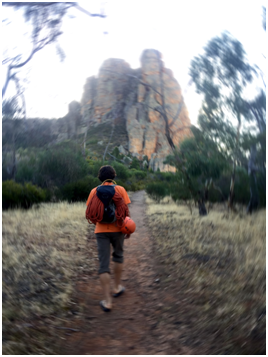 David vs Goliath - BD 9.6 vs Arapiles
Seeing as I don't own a rigorous testing facility, I decided to take the rope to the heart of Australian climbing, Mt. Arapiles, and really put it through its paces. In addition to Mt. Arapiles, the 9.6 has been with me cragging in South-East Queensland and up as far as Townsville. Believe me: we were not gentle with it. Many abseils, many falls, and many climbs later, this is what I've found:
Durability
The sheath is holding up much better than expected. After abusing the rope around Australia, there are definitely a few slight burrs in places, but these sections don't seem to fuzz up like in most other ropes. The rope still feels brand new! This durability is thanks to the tight 1x1 weave of the sheath (as opposed to the more traditional 2x2 weave) and that it was made with more nylon packed in. The rope has even still got its nice smooth sheen like it did out of the box. I cannot say anything to how well the rope lasts over years of use, but so far it's holding up much better than my previous ropes.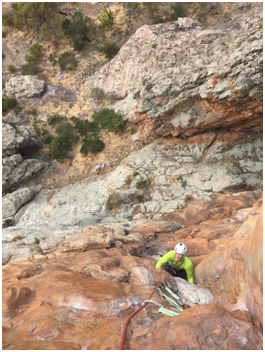 Zac Trembath about to reach the mantle crux atop pitch 1 of Euridyce, an Arapiles classic.
Handling
Ropes with nice handling give me way too much enjoyment than they should. Sure, it's one of climbing-life's simple pleasures, but good handling can make, or figuratively break, a rope. It was a pleasure to use the BD 9.6. The slimmer 9.6mm diameter and tight 1x1 sheath meant that the rope was easy to use, and smooth to run through your hands. This made it easier to clip, to tie knots, to untie knots, to coil, to belay … it just made life easy. The 9.6mm diameter lay smack bang in the middle of the recommended range of most tubular devices and the GriGri, so the rope ran smoothly but still with control. Over time, some ropes fuzz up and become harder to feed. Due to the construction of the sheath, I predict that this would not be a major issue with the 9.6 rope.
The sheath did feel slightly squishy, but this is due to the extra nylon used and I didn't find that this hindered untying tight figure 8s after taking some whippers.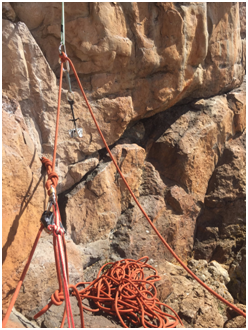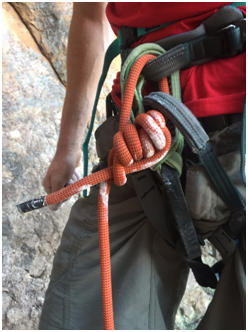 Tying knots and making anchors with the BD 9.6 was a breeze.
Weight
I thought that the BD 9.6 was a little heavy for its diameter (62g/m). Apparently the extra weight comes down to extra nylon in the sheath, so it's a touch heavier than its competitors.
Middle Mark
The middle mark was bold to begin with, and I loved it, but it unfortunately faded away within a couple weeks. It's not somewhat hard to spot and on a few occasions I have mistaken it for a shadow…
Conclusion
The BD 9.6 is a fantastic all-rounder rope that I believe will hold its own in the market against other workhorse ropes. If you're into cutting all forms of weight you can, from Metolius ultralight cams and feather-light quickdraws, to coordinating your digestive movements with your sending burns on your latest proj, then you may want to consider a lighter rope like the Beal Stinger or the Tendon Master. However, if you're looking for something that will survive the tests of rough edges and big whippers, or you simply don't mind a bit of weight training, then the BD 9.6 is the rope for you.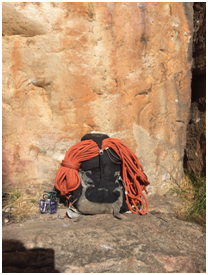 Thank you Mr 9.6 for an awesome trip!