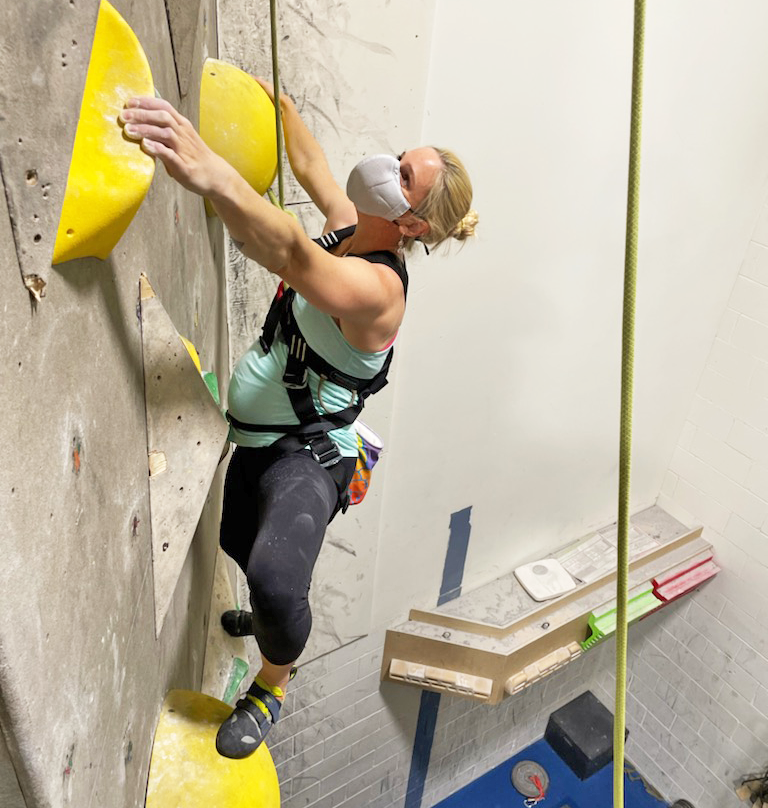 Written by Pinnacle Ambassador Tiffany Melius
As many of you will know, when Covid-19 threw a wrench in my Tokyo 2020 Olympic qualification plans and I decided to finish that phase of my life, the silver lining was that I could start trying to start a family. This is something that I have always wanted, but it has never been the right time for one reason or another. Finally it was the right time!
It took a little longer than my partner Simon and I were expecting, but once it happened, of course I started looking for resources on climbing while pregnant, which, as it turns out, is pretty challenging. I guess since our sport is fairly young, and not many studies are done on pregnant women anywhere, on any topic, let alone in a niche sport like climbing, there aren't many studies or scientific papers to refer to (though this is changing slowly, for example). So much of what is available is anecdotal, and in a way that is appropriate - no two pregnancies are the same, so basing what you do on what others have done can be problematic. But not having any information or guidelines to base your decisions on can also be challenging.
There is also navigation of stigma. On the one hand there are the hard climbing / hard lifting / hard running / hard training mamas who inspire us all that pregnancy doesn't have to be the end of life as we know it; but along with that comes some pressure to be that mama, especially if you've been a high level athlete pre-pregnancy. And on the other hand there is a general consensus in society that climbing (and lifting, and running, and training) is risky, dangerous, and should be avoided during pregnancy. Even the 'bible' of pregnancy, "What to Expect When You're Expecting" (4th edition), says "and of course, rock climbing is out".
So below are the resources that I have come across, that I have found to be helpful in guiding me through the myriad of different choices to be made during pregnancy (while climbing). Take everything with a grain of salt, and make sure to listen to your own body. And here are the milestones for me so far (currently 26 weeks pregnant and on the cusp of my third trimester), because using others' milestones as a guideline for me has helped validate my choices.
Week 5: Positive Home pregnancy test - stopped significant falling (>1m from feet) in bouldering. Spot for any overhangs so no falling flat on my back.
Week 12 / 3 months: Stopped doing double leg core exercises (lower while lying flat on my back on the floor).
Week 15: Started feeling differences in climbing movement - more difficult to lift feet into high steps, overhangs feel difficult (less power, less core engagement); baby bump visible!
Week 18: Outdoor leading, easy vertical routes (no falls), normal harness but extended. Low intensity high volume bouldering. Injured shoulder (trying a too-powerful campus move on an overhang, because I pushed foolishly).
Week 19: Started feeling baby movement (first time I was sure I felt it was watching Janja Garnbret on the final lead climb of the Olympic competition - great omen!). Indoor leading, easy vertical routes (no falls), normal harness but extended.
Week 20 / 5 months: Full body harness, top rope only. Bouldering not feeling comfortable unless low to the ground and very easy.
Week 24 / 6 months: Needing to substitute some holds as tight into body high steps not possible. No more bouldering except traversing as warm-up. Stopped fingerboard hangs due to doming.


Resources
Podcasts:
Forum threads:
Articles/blogs:
Films:
Facebook:
Instagram Accounts: