Written by Pinnacle Ambassador Flora Froese
I recently picked up a pair of Scarpa Dragos. I was looking for somewhat high performance sport shoe to replace a void left in my life with the retirement of my Vapour Vs as comp shoes. I haven't been disappointed.
First impressions: the Dragos look cool! They have a smooth look with bright yellow and red accents against the black rubber wrapping right up around the forefoot. The single Velcro fastening adds to to the sleek look.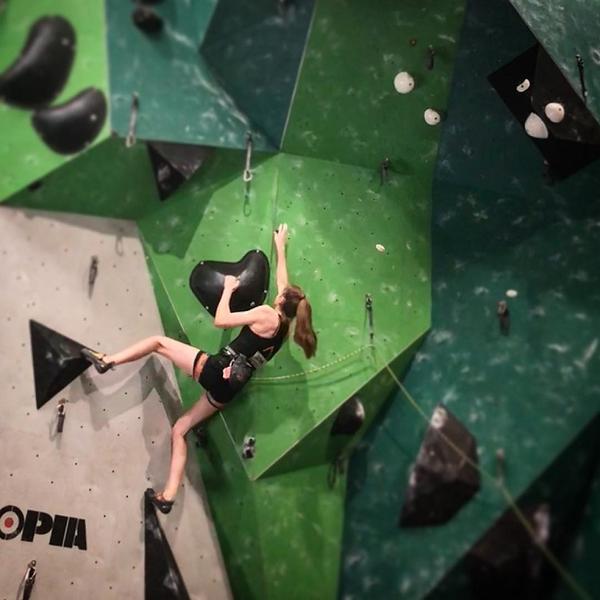 Rocking the Dragos on the finals route of the K2 Base Camp 2018 Open Queensland State Lead Titles - photo by Adam West
Squeezing them on immediately felt different too. In a word, these shoes are light. Made from thin Vibram SX grip 2 rubber, they cling all around the foot like a sticky rubber sock and felt amazing right out of the box, no painful wearing in period, no blisters. Not all feet are the same and climbers feet seem to have more quirky variations than most. The Dragos fit my feet perfectly, reasonably narrow with a high arch. Almost too comfortable, I was suspicious. While they have an aggressive, downturned shape, they are also extremely flexible, making standing around on the boulder mat a bearable experience. So does all this beauty and comfort translate to performance? Surely not, right?
Wrong. The Drago is possiblyy the highest performing shoe I have worn. The thin, light feel equates to maximum sensitivity. While the smearing ablility of these shoes might be obvious, what surprised me was the edging. The Drago's heel construction holds tension in the whole shoe allowing me to place my feet precisely on the tiniest of foot holds and stick there with confidence.
The single Velcro fastening feels more secure than expected and the wave-like formation of the microsuede upper hugs the foot like a loving embrace.
I think the trade off of all this light suppleness is that these shoes are not built with longevity in mind. I should probably keep them aside just for competitions but they are too much fun to wear and I want them to be my every day, go-to shoes.
They are perfect for both lead and bouldering, I reckon they would work well outdoors on granite or sandstone but I'm too scared of hurting them.
I highly recommend these shoes for any intermediate to high level competitive climber.
Verdict: you'll never go back.